I made my little brother a Doctor Who stenciled shirt for Christmas, and when I asked him what he wanted for a graduation present, he asked for another one. Theme? "Surprise me," he said.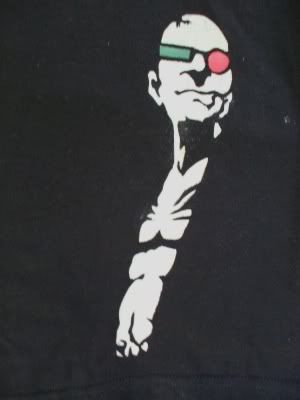 He's a big Warren Ellis fan, and has recently been pushing the comic
Transmetropolitan
on me. So I went with that and made him a Spider Jerusalem shirt based on one I found online while googling around for images. Since I was kind of pressed for time and didn't want to mess around with bleach, I mixed my own greyish color for Spider's skin tone (a bunch of white paint with three drops of yellow paint and one drop of black). In certain lights it looks kind of shiny and silvery, which was unexpected but neat. I also mixed the green and red for his glasses.
If I were to do it again I'd make the stencil about twice as big and a bit more detailed, but the main thing is that my brother loved it, and stripped off his shirt and put it on right away.