sarahj2001 - Love all of your yarns. I actually think that the greyish one with the dying "issue" is cool. It would make something good for a guy. Like some stripes in a hat or something. It would be cool for weaving too! That could be interesting to see how the colors shape up. I really love the blue though. It reminds me of candy.
Slingmomma - Love it! Kool Aid is God's invention. I never thought about how much I'd use it for stuff OTHER than drinking! lol
I have a few yarns. I can't remember if I've shared them but I don't think I have.
On the bobbin, in progress yarn: chartreuse green, soft and luscious merino fiber from WC Mercantile "The best little yarn shop in Texas!" LOL It really is GREAT fiber though. I recommend them. I'd love to visit their shop!! Who knows, since I live down here I may go visit one day. Anyhoo, I LOVE this yarn. I'm going to make mittens or fingerless gloves out of them.
Bamboo fiber from The Fiber Lady. She dyed this fiber. I bought it at the DFW Fiber Fest last year. It has tones of pinks, blues and silvery greys.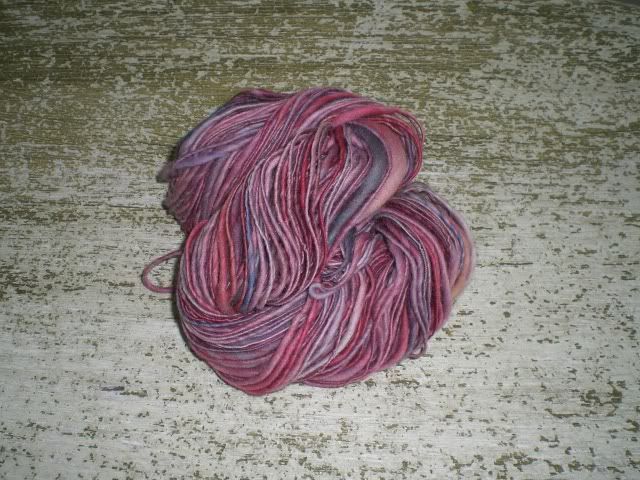 This one is a wool roving that I received from penguino in a fiber swap. It really is lovely, like berries!
and....
A medium thick wool yarn that was dyed by Craftster's Nesse. I bought it from her in STS
That is all!