Well, ladies, I never thought in a million years that this would happen, but I'm done. I started during the opening ceremonies on Friday and finished during pairs figure skating on Saturday. I thought I'd picked a challenging project -- to design and crochet a toddler's halter top, something I'd never done before, but I guess the kids just napped a lot and let me work. Here's the finished product: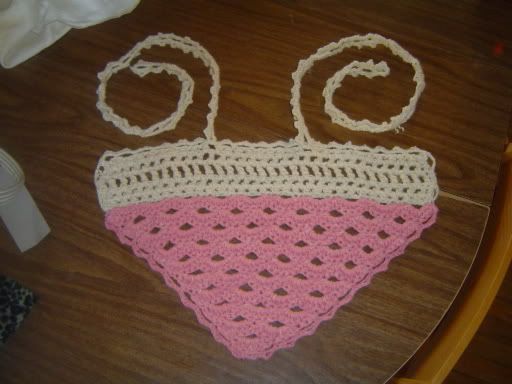 The straps cross in the back and thread through the top of the beige part, then through the bottom, then tie. I'll try to get a pic of my little girl wearing it, but she wasn't awake when I left for work this morning. In case you're wondering the yarn is a wool/angora blend, which I might dip dye in blue Kool-Aid to get a pink/purple/blue fade going on.
I think I'll start another project today, and I suppose my new challenge is to see how many projects I can get done in 16 days.