Quote
oooo i'm interested in a tut! :0)
please?
Okay, here's a close up and my best stab at a tute. If this doesn't make sense, let me know and I'll try to clear it up.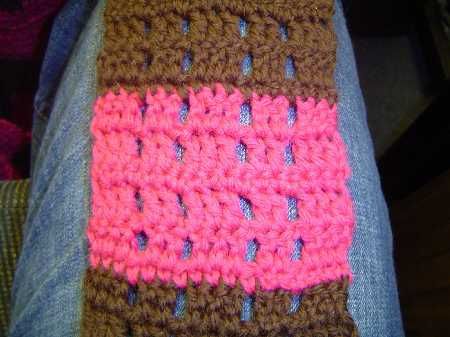 Foundation: Chain 17 + 1 turning chain.
Row 1: Sc in 2nd ch from hook, continue across (17 sc made). Ch 2 turn.
Row 2: *3 dc, chain 1, skip 1 st, 2 dc, chain 1, skip 1 st* repeat from * to * once, then end row with 3 dc. chain 2 turn.
Row 3: repeat row 2, expect only chain 1 before turning.
Row 4: One sc in each st and chain 1 space across, chain 2, turn.
Row 5: repeat row 2.
Row 6: repeat row 2, until last st. At last st, change colors, and chain 1 with new color.
Row 7: repeat row 4.
Rows 8-infinity: continue with pattern of one row SC two rows DC, changing colors after you have done 6 rows.
My scarf is just about 6' long, but you can obviously make this any length you want. It would also be good for scrap yarn. I used about half of one skein of each color. The picture doesn't show it, but I added fringe in both colors at the end. I'd love to see pics if anyone makes this.