Hi!
Firstly apologies to greenfaerie! She sent me such awesome bookmarks and i haven't done them justice becasue i have posted pictures yet, i'm very sorry!
Here they all are crammed into the book i'm reading at the moment (i got a bit carried away in my excitement!)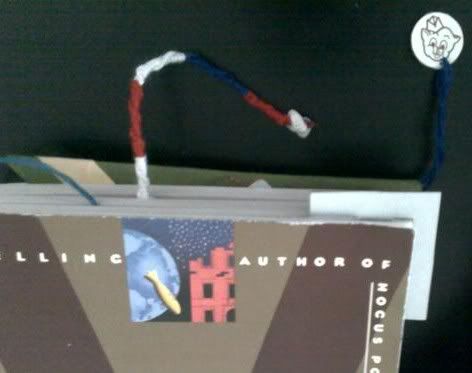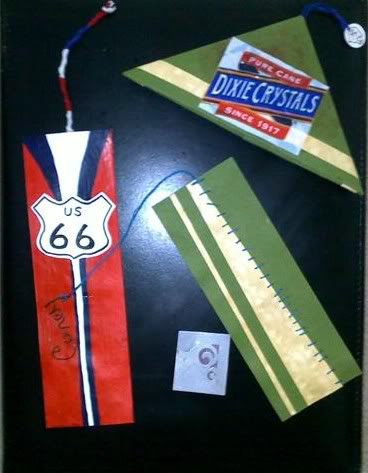 I got an awesome southern kitsch bookmark! with little piggys on! i cannot believe you have a store called piggly wiggley
A route 66 one to represent my love of all things americana! I am very jealous of your trip btw greenfaerief
I loved the coney island one - greenfaerie left the back in scrunchy vellum so that i could add my own pictures of my trip! its going to make a great memento - thank you. I think the idea of doing it in a representational style is awesome and the little metal coney on the bottom is adorable; This is how greenfaerie described it and i think it is much more eloquent than my excited babble! ; Stylized take on Coney Island marker: Since I love Coney, but never have been there, I actually did this in a representational art style. The yellow reminds me of the lights, the stitching both the rails of the coasters and the stitching on some of the proud freaks who perform there. I put a sheet of puckered vellum on the back with the intention that you could glue a panoramic crop of your trip or even 3 small pictures to the back. The metal "Coney" part I formed myself out of wire
and finally this cute little bookcorner which i think is my favourite - its a style that my partner used in alot of her wedding stuff and its beautiful your wedding must have been pretty as a picture, i'm honoured to be the first person you've used the style on since your wedding!
Thank you again greenfaerie!
and p.s i am loving the gallery everyone did such awesome jobs!