arghh i think these will be too big
bad cat.
but wicked bookmarks guys. here are the ones from my first two partners bookwombry and crazywazy.
thank you so much gusy they made my days when i recieved them
and cheered me immediatly up.
and here they are to show all your hard work!

- one side of bookwombry ( my fave side)

- other side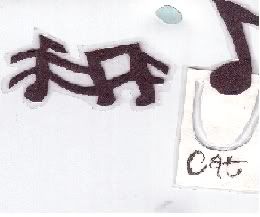 - i love these from crazywazy. my first ever package via craftster so made it extra special. and they are just wicked. and very me. so wicked for you actually wicked for both of you there are both brilliant.
and wicked for dreamisle. thanks for makign such a great swap!
xxxxx
p.s i will post of my last partner when ir ecieve! xxxxxxxxxx