*sneak peek!*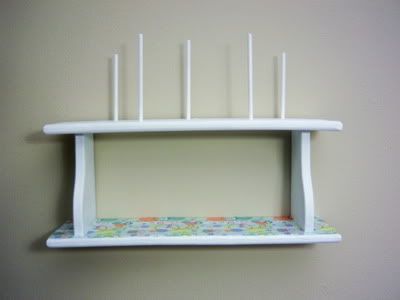 I hope this is in the right spot! I found this shelf by the dumpster in our apartment complex. My DH and I were walking our dogs and he rolled his eyes when I carried it up. I didn't know what I wanted to do with it until today. I had two gallon sized bags of cookie cutters and another set I just bought (damn you Target dollar section!), and no way to store them!
Here's the before: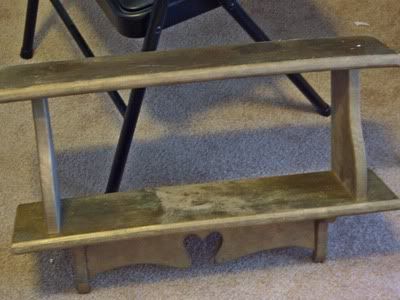 I had to use a jigsaw (to cut the dowel into pieces), sander and drill with a bit that was the same size as the dowels. Don't forget eye and mouth protection!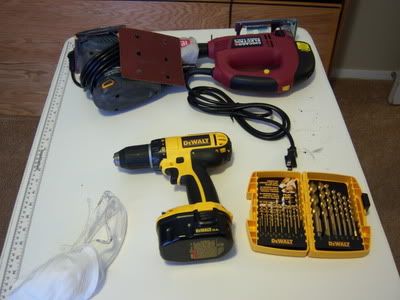 I wrapped a piece of masking tape around the drill bit so I wouldn't drill all the way down. I sanded it after I drilled the holes. I then cut the dowels, sanded down the tips, then put the glue in the holes. I also dipped the dowels in the glue then put into holes. Make sure they're snug!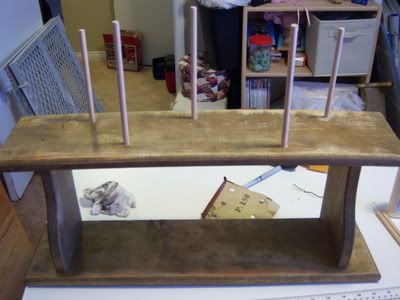 I painted it Ultra White eggshell finish. The bottom shelf was splotchy after a few coats, so I mod-podged some cute scrapbook paper to the bottom shelf. I spent 40 cents on picture frame hangers to hang the shelf on the wall. That's it! I had everything else laying around the craft room. I'm so excited about it.
The final result!