I was in Toys R Us a few weeks ago and saw
the cutest
purses and bags made out of fabric that was printed with Skittles, M&M's, and other kinds of candy wrappers. However, a) I am not about to pay $20 for a purse I probably won't use just because it's cute, and b) the reason I can't pay that is because my husband has me on a strict purse diet due to the overflowing bins in my closet full of purses and wallets, so I couldn't buy one even if I really wanted to.
I know this idea didn't originate with Toys R Us (lol) but seeing those bags reminded me of how much I've always loved looking at these types of projects here on Craftster.
Then I signed up for the Post On Every Completed Board craftalong and realized I now had a great excuse to buy lots of candy and experiment with the wrappers to make bags just like the ones I'd fallen in love with in Toys R Us! When I was standing in the candy aisle of the store the Starbursts just about leaped off the shelf and into my cart. And since I had a wonderful matching orange FQ to use for lining, I couldn't wait to get started on this!
This is only the first that I have made, and will for sure not be the last. I currently have a stack of bags waiting for me to sew them up. However, I was so excited when I made this one that I absolutely couldn't resist posting it!
Also, it's more of a pouch than a wallet, I realize this...but the truth is that I detest wallets. My ID and money get shoved in a little zipper pouch in my purse because I hate digging through card slots and such to find what I'm looking for. That's why this is a pouch.
Time for pictures!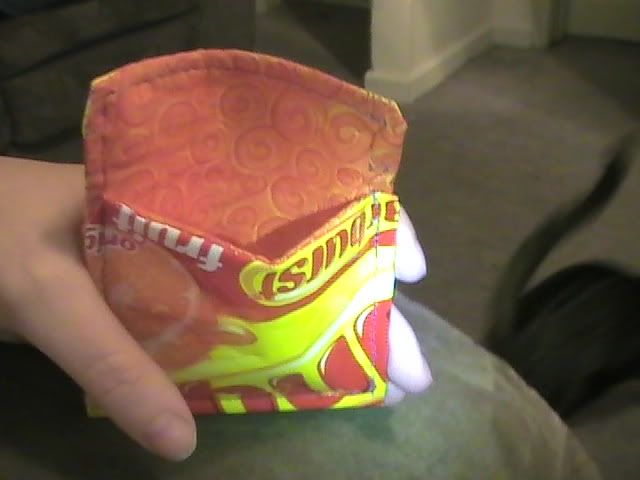 Isn't it adorable? It's the perfect size for my ID and credit card and some cash. I love it!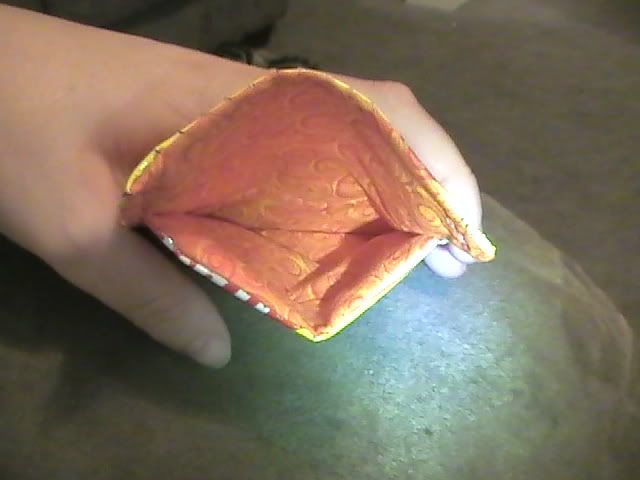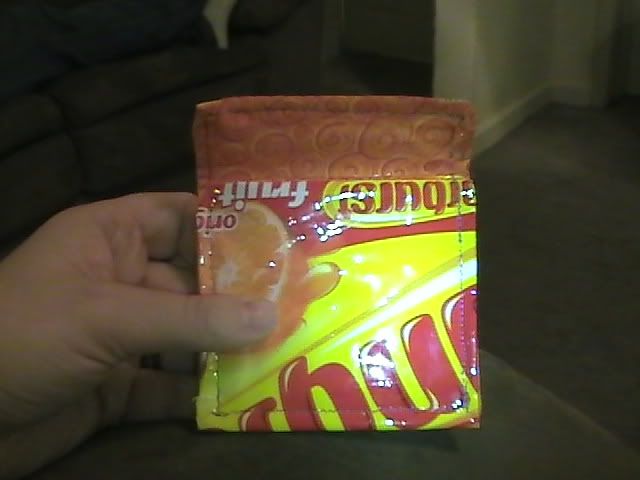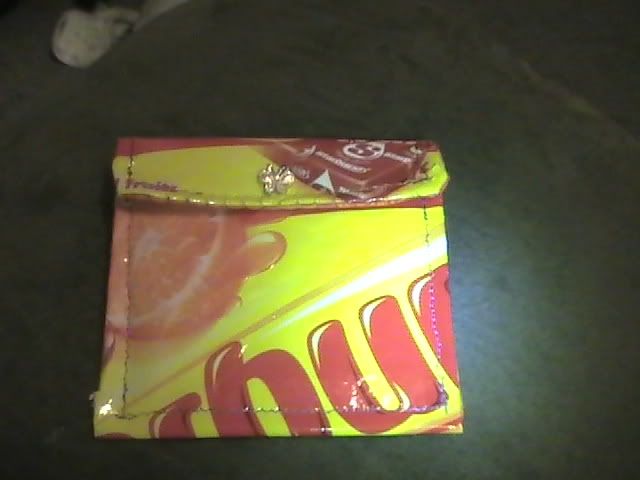 This last picture shows the closure method I am currently using. It's a small butterfly earring. Since it will be in my purse, not my pocket, I'm not worried about getting poked by the earring, and I really love how it looks.
ALSO (I promise this is the last thing I will say, I know I am long winded!) there was supposed to be a vinyl covering on the outside of the starburst wrapper to protect it. When I layered my fabrics to run them through my machine, I accidentally put the vinyl in the middle, between the wrapper and the lining, so when I turned it right side out, the vinyl was, of course, serving as more of an interfacing than a protective measure. I am somewhat bummed about this but since it only took about an hour from start to finish (including drafting the pattern, cutting, etc) I won't be too upset if it doesn't last long. It was worth the learning experience if nothing else!