I can't believe I did it! I'm so proud!!
I make quilts...I make messes...I even made a kid once. BUT I have never been able to make clothing of any kind. It's like as soon as one of my creations gets close enough to a human body to be considered clothing, it shrivels up and unravels and becomes a worthless tangle of knotted thread and fabric. And whenever I have thought about making clothes, the patterns seem to be written in a foreign language and my brain fries just looking at it.
So when I saw this tut I thought, might as well not even try, it'll be a disaster.
But then my two year old niece came and sat on my lap and I got to looking at the little leggings she had on. They were adorable, of course, but they would be even more adorable made out of this purple flannel with farm animals all over that I got the other day. Before I really let myself think twice about it, I got to cutting and sewing.
I came across two small snags - one, I could not for the life of me understand the step about sewing the crotch seams, and ended up sewing a pair of pants that you couldn't pull on because there was a seam right through the middle, lol. So I googled "how to sew the crotch in pants", and within minutes realized where I'd gone wrong, ripped the stitches out and fixed the problem.
The second snag still isn't fixed but because these are just lounging around the house pants, I'm not that worried about it. I didn't hem the ankles because I'm not really sure how yet. I plan on looking at tuts for that when I'm done posting.
Okay, enough typing, here's the pants in action.
She was trying to kung fu chop me in the hallway outside my room. She's a little...rambunctious.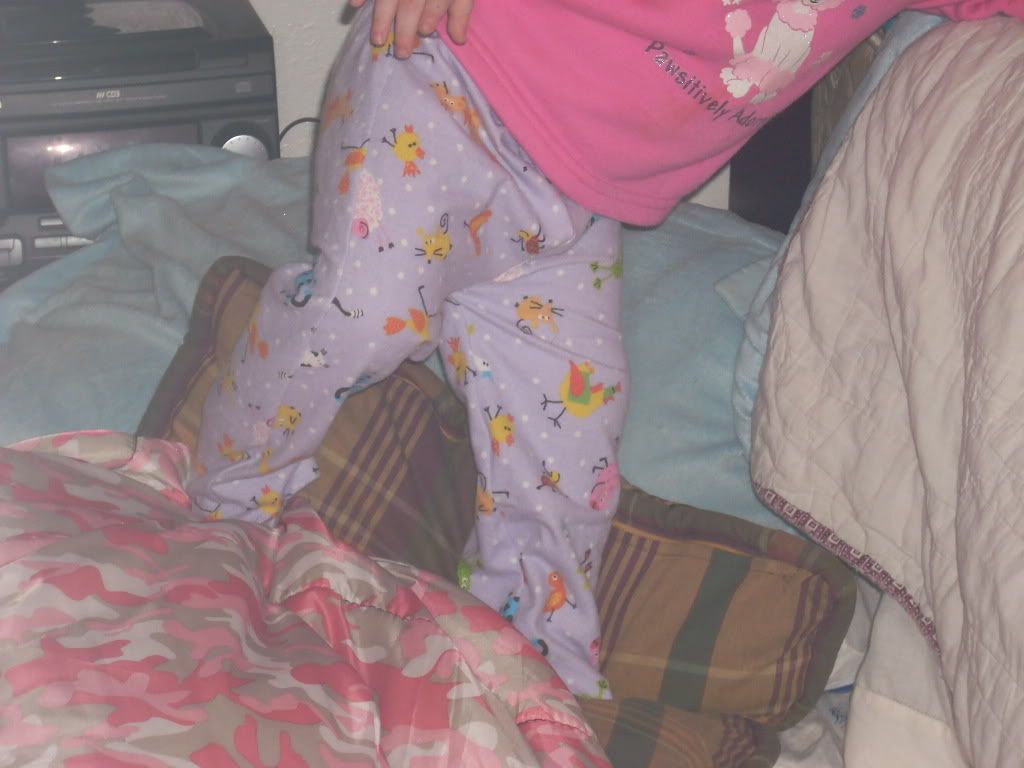 There really isn't a funny spot in that crotch seam, it's just the way she's standing. She was crawling up on my bed and my husband told her to get down, so she was kind of in limbo while she looked for the next thing she could get into, which is why I got this picture at all.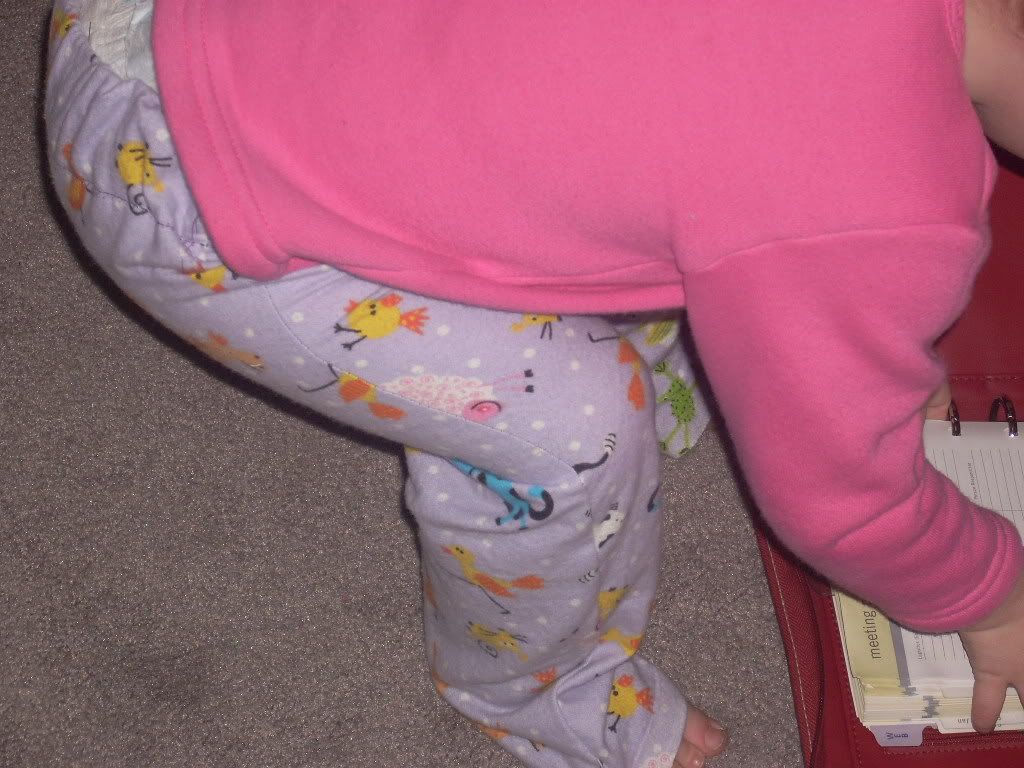 And then she finally found something else to dig into, my date book. Here you can see the unhemmed bottom. It's also the selvage edge of the fabric so I'm not too worried about it getting messed up before I can figure out to hem.
And don't look at the waistband too closely either, this was for sure a learning experience!
She loves them so much she wouldn't let us take 'em off her to change her diaper. She kept yelling "Mine!" and trying to put them back on, so I guess they won her approval!