I have been working on this project for over a year and have finally finished it! It was one of the very first projects I started so this is very exciting for me to have finally have finished
On to some pictures (clickable thumblinks per usual)!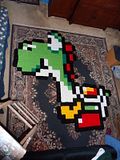 You can see the ladder I'm standing on to get high enough to even take a picture of the whole afghan since it quite literally takes up the entire living room floor when it's all spread out.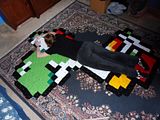 Picture with me sprawled out on it for size comparison. I am 6' tall and the blanket is roughly 8' tall x 7.5' wide. I had only meant for it to be about as tall as me but oh well, haha
The afghan is 28 squares tall and 26 squares wide and contains 728 squares if my math is correct. I reverse single crocheted around the entire blanket in black to help hide the ends and hold it together since it isn't a nice rectangle. It's been through one round of blocking but will probably going through another one before I'm officially done.
There a couple more pictures of it on my blog along with a link to a pdf file of the chart I used for the blanket here:
http://nerdyhooker.blogspot.com/2010/12/8-bit-yoshi-blanket-complete-for-now.html
and here is a direct link to the pdf file where it can be downloaded:
http://www.scribd.com/doc/45809950/8-Bit-Yoshi-Chart
.
If anybody makes any sort of project using the chart, link me to pictures! I'd love to see them!
Comments and questions are always welcome