The situation: My mom was holding a garden party. I had nothing to wear and had been trying a healthy oatmeal diet for a week because I was so broke.
Materials: An old, ugly dress, a tiny bit of patience and a good vocabulary of swearwords. The original dress had long sleeves (that were too short) and an infernal amount of ruffles and buttons, and generally didn't fit at all.
What I did: Cut the sleeves off, changed the back into the front, did a lot of fitting and cutting and added straps and a bow. I love button-down backs on shirts and dresses, so I left a couple of buttons on the back. You have to take advantage of every chance not to sew buttonholes yourself...
The result. The dress looks even sorter than it is, thanks to long legs and the camera angle, but in fact it is long enough to be worn without jeans, like I did to the party.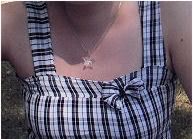 Close-up of the neckline and bow.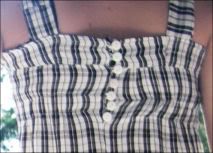 Bad picture of the back (it doesn't look so wobbly in real life!).
And as a bonus, because I forgot to take a before picture: a drawing of the original dress, which manages to look a lot better than the actual dress ever did.