hey all, me again, here's my brooch i made for lin, i really truly am sorry for sending it out late.
lin wanted a brooch of flowers and shells.. initially i made it and was about to burn the edges of the ribbon to stop fraying but unfortunately i decided to use the stove to get fire (we dont have lighters/matches at home!) so the poor flower got burnt crisp. oops. so i made another one with beaded centre and well..the pictures kinda show.. here they are.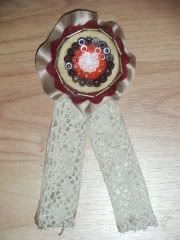 glad that lin likes it!
d