Ok, so after about five months of dating, you have to meet the in-laws right?
Oh yes, and I was also meeting his whole family at a barbeque.
So being the wonderful girlfriend and person that I am, I phoned in advance to ask if I should bring anything. I was told that something for the dessert table would be good, but as they already had cake and ice-cream, something different please.
So that would be cookies then?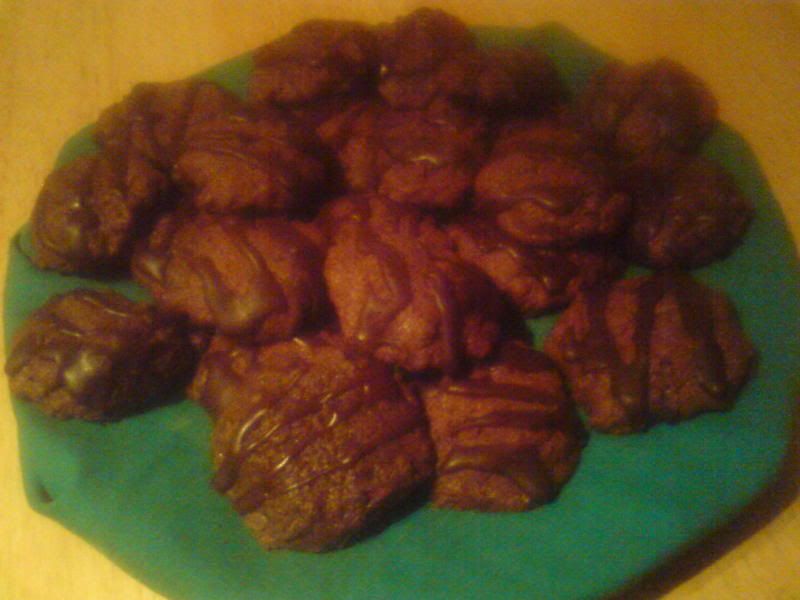 I apologise for the terrible phone picture.
They turned out beautifully, and tasted great.
It's a Nigella Lawson recipe, but I'll type it up 
Tutorial
1 cup soft butter
1 1/2 cups light brown sugar
1 teaspoon vanilla extract
1 egg
1 1/2 cups plain flour
1/4 cup cocoa powder
1/2 teaspoon baking powder
2 cups dark chocolate chips
For the glaze
3/4 cups icing sugar
1x15ml tablespoon cocoa, sieved
2x15ml tablespoons boiling water
1/4 teaspoon peppermint extract (I used 3 crushed menthol tic-tacs, I'm nothing if not thrifty -nod-)
1//Preheat oven to 180 C
2// Cream butter and sugar, then beat in the vanilla extract and egg
3//Mix flour, cocoa and baking powder and gradually beat into mixture. Fold in chocolate chips.
4//Scoop out scoops of cookie dough and place on a lined baking sheet, leaving a little space in between.
5//Bake in oven for 12 minutes. Then leave to cool on top of kitchen roll (to catch any escaping glaze later).
6//Put the glaze ingredients into a saucepan and heat until combined.
7//Using a teaspoon, zig-zag the glaze over each cooling cookie.
Enjoy!