That softie is adorable!
I received my package today from scarlettsquill. It's amazing!
First, there were 4 beautiful bird cards.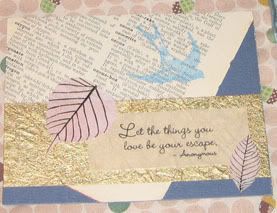 Then there were 4 potholders with a squirrel stitched on them. Potholders were something I had asked for.
Next, an owl apron. I love it. I'm afraid of getting it dirty now.
Next, a felt needle book and an adorable felted hedgie pincushion. Or maybe he's meant to be a porcupine with spikey pins
Either way he's very cute.
And finally, some extras: Tree stickers and some leaf silver beads. Very nice!
Thank you for all the wonderful things Scarlettsquill