We just painted the entire interior of our home and are slowly decorating each room. My 6 year old wants decorations that are "cool and not babyish" and on International Woman's Day I had the idea to honor the most fabulous woman in training that I know by making her this:
Sorry for the dark and glared photos. Very gloomy here that day and even matte modge podge tends to catch a glare from a camera flash. My daughters walls are actually a medium green color and not the grey that appears in the photos.
This was a big step for me as I have never had an art class and tend to work with textiles, sew, and refurb furniture. I generally leave kind of stuff up to my more arty hubby. My daughter loves it though and hugged me several times that day for it so I think it was a success.
The heart is layered calendar pages and though it doesn't show, has a ripple effect on the edges that makes it a bit 3-D. The flowers are scrapbooking supplies, black marker is sharpie, and I used acrylic paints for the yellow on the background and the two outlines of the heart. The whole things has two coats of modge podge on it and I used modge podge to adhere the recycled paper heart and my daughters photo as well. I used a cheap canvas from Michael's and I used push pins and gross grain ribbon to cover the edges of it.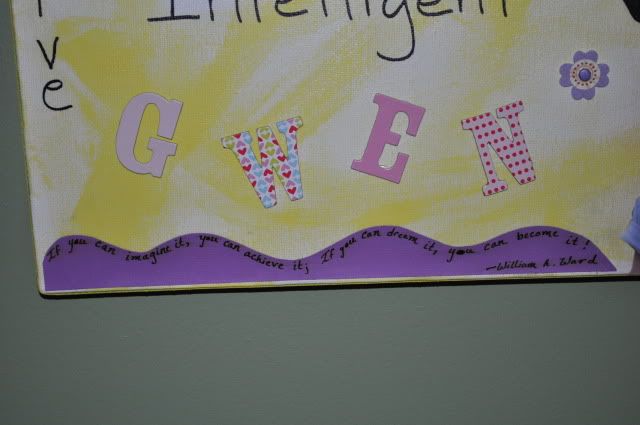 The piece contains three quotes:
-There is no need to reach for the stars. They are deep within you, just reach deep into yourself!
-Go confidently in the Direction of your dreams.
-If you can imagine it, you can achieve it; if you can dream it, you can become it! - William A. Ward