Ha ha, I'm glad you like "innocence". I originally thought he was like Old Gregg's cousin (The Mighty Boosh) but now I just think he's a sweet kid.
Two more that I made today:
49. Stripes: It's an octopus! The stripes are more obvious and less blurry in real life.
94. Last Hope: It's not actually all that hopeful. It's more of a last hope that failed I guess. This isn't my favorite, but I think it looks especially bad in the picture. I probably need a better camera or something.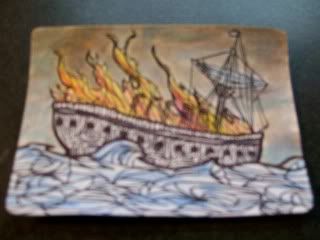 12/100