Gather round, and hear my mournful tale about the importance of gauge swatches. I knitted one for this sweater, of course, what do you take me for, a simpleton? I just... ignored it. And assumed that the sweater would look
good
if it was oversized. I was wrong, it looked terrible on me. Luckily, my 92 year old grandmother was happy to take it off my hands, despite the, um, Alkaline Trio logos I stuck on the arms.
The pattern I used was actually Peppermint Twist from the Stitch & Bitch book, but it came out so utterly unlike anything you would expect to come from that pattern that I figured there was no point in my posting in that area. Although feel free to correct me if I was wrong.
Anyway, pictures: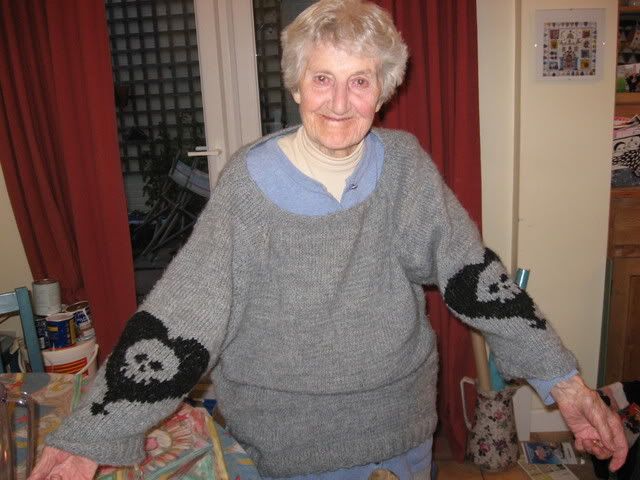 IT'S SO BIG. How did I not see how huge it was getting while I was knitting it? I don't even know. Like I said. Swatches. Not to be ignored. It suits her a lot better than it did me, though, somehow.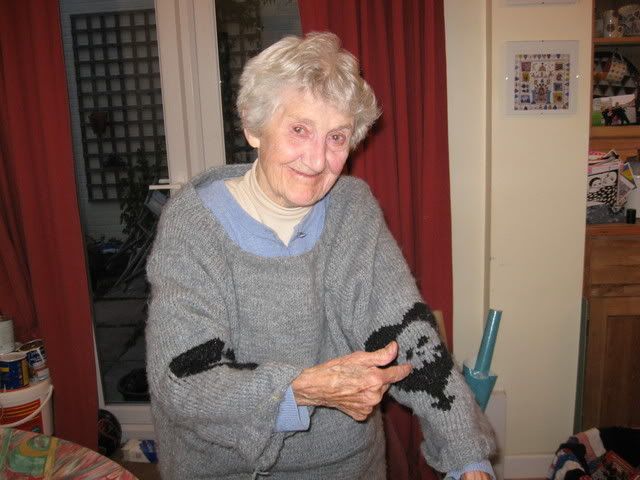 My grandmother is kind of a huge poser.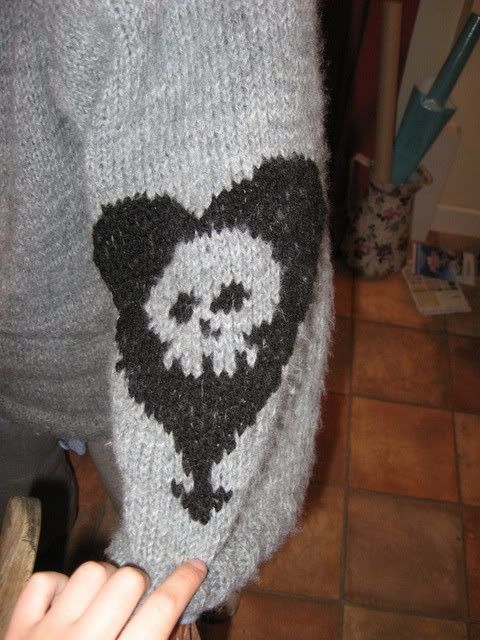 This is one of the Alkaline Trio logos. I am so happy with how they turned out, it kind of pisses me off that the sweater looks so awful on me. Oh well. And the chart was so tough to work out, I used an internet program, (that microrevolt one. You know the one I mean.) but it hard as anything to find a useable logo to make the chart from.
Here is the rather awkward part that makes me uncomfortable about my grandmother's ownership of this particular sweater:
Um... yeah. If you're not familiar with the band in question, they are pretty gothy. The album "Good Mourning" has some of my favourite album art ever, and it features lots of coffins and crucifixes and stuff. I think it's a bit weird, but she likes the sweater because it's so warm and she feels the cold a lot, being old and all. Hmm.
So now, every time I'm knitting anything in the vicinity of my grandma she gets VERY INTERESTED and has this look in her eyes like she's deciding whether or not she fancies my latest hat or what have you and how she's going to get it off me. Haha.