So I went to Anime Boston over the summer.
I decided to go as a female (SNJ for all you Naruto fans) Kakashi...
So here's my costuuuume!
Pardon the hand...but that is my earring i made with some bells (if you read the manga you should know)
I made book covers out of orange paper and colored the covers of Kakashi's favorite books on them. I covered MY favorite mangas with them, so they were fully functional whee!!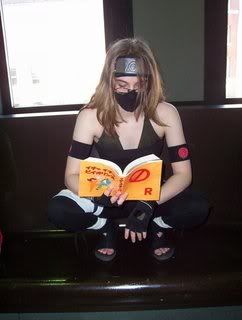 The gloves were batters gloves that i think i bought at target. my mom works for a company that makes plastics and she brought me home a sample of silver sheet plastic. it was shiny on one side so i used that for the plates oh his fingerless gloves (hot glue)
Also...the shoes i made by hand out of old flip flops and some cloth. they held up very well for those three days, but they did begin to split at the seams towards the end.
The leg wrappings were just medical gauze, and the kunai leg pouch was a toy set that i bought at target..it came with a ninja a$$ pouch also..with kunai and shuriken!

Finally a picture of me reading in the elevator that my friend took...my friends faces are blurred out just for privacy reasons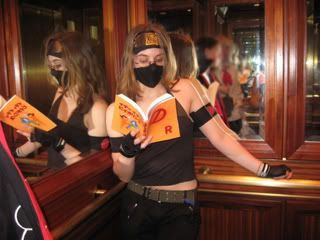 (I'm not sure if this goes here...but i figured, its clothes, it isn't for halloween, and its completed...)
Tell me what you think!!
thanks!
--EDIT--
okay i forgot to mention...the pants are from a consignment store i went to. the shirt i sewed myself. the armbands i also sewed myself. there are red and black swirls on the back of my shirt and on the armbands that i made from thick red cloth and black rope (for the shirt one) and red cloth and black marker (for the smaller armband ones) the headband is bought there at the convention