Yesterday I had a great crafty idea.
I am forever finding something nice & warm to put
in the bottom of my travel crates.. when I am off to
the vets.. or to shows.. so I came up with...
I started by measuring a travel crate, the length &
width of the base (30cm x 50cm)
I then added 20cm to the length & 40cm to the width..
I cut 2 bits of material to this size..
http://i29.photobucket.com/albums/c276/char351/100_3596.jpg
I stitched all the edges together.. leaving a small gap for the filling..
I then cut a peice of wadding the same size.. and an extra peice 30cm x 50cm
http://i29.photobucket.com/albums/c276/char351/100_3597.jpg
I put the large bit..(with the wings) inside the cover & stiched along the
base of the wings..
http://i29.photobucket.com/albums/c276/char351/100_3599.jpg
Then I put the 30cm x 50cm peice into the base.. to give it some extra padding.
I stitched up the opening with my sewing machine..
I also ran another line of stiching about 10cm in from the hems.. to keep
the wadding in place when it needs to be washed..
I folded the end corner up.. and stitched it in place..
Then did the same to the other side..
And..... Wella.... Modelled by the beautiful Miss Bluebelle..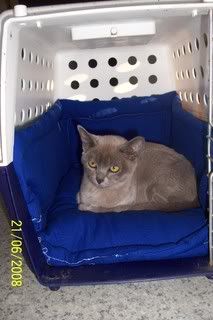 It fits perfectly into my travel crate.. can be machine washed.. & no more
looking for somethink to put in the crate for my kitties!!!!
I am now going to make 1 for each of my travel crates.
The whole thing took about an hour.. from start to finish...
The material was $8 from the op shop.. I can probably make about 6 of them
out of the 1 peice.. and the wadding was $7.35 a metre.. I think I can get
about 5 out of the 1 metre of wadding..
I hope you enjoy my crafty idea!!!!