I recieved from beastbunny today
the stash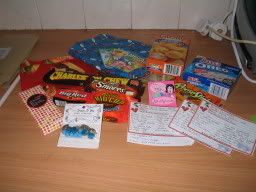 This contains,
-reeses cup and some reeses sticks i have tried one of these, is all american peanutbutter so sweet?
-big red gum!!! yay! my all time favourite
-A smores bar, I ate half of this but it was very sickly, so I'm saving the other half for after tea later
nice though
-Charleston chew, this seems like a massive candy bar!
-kool aid and flavour aid, which i'm probably going to taste before using it to dy things
-a choxie hot chocolate bar, i can't wait to try this
-corn muffin mix
-oreo instant pudding mix
-soap sheets
-emery boards (you have no idea how handy these and the soap are going to be when in the workshops at college)
-some silver and turquoise beads
-fabric, bowling and fast food (burger) fabric, can't wait to use these.
-some hand written recipe cards
and.............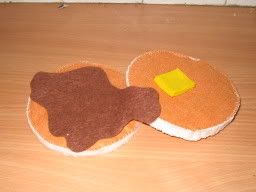 Felt pancakes, complete with syrup and butter.
I am going to use these as a pin cushion because I don't have one and usually just end up sticking them through my jeans .
Thankyou Jenna, I love everything!!