For my son's 5th birthday, I used a Lego theme and then went on Pinterest and used a bunch of the ideas I found there. I made just about everything for this party and was very happy with the results. There were a few ideas that didn't work out or I didn't have time to do, but I did most of the things I found. I used four colors for everything, red, yellow, green and blue (the colors that Legos primarily come in).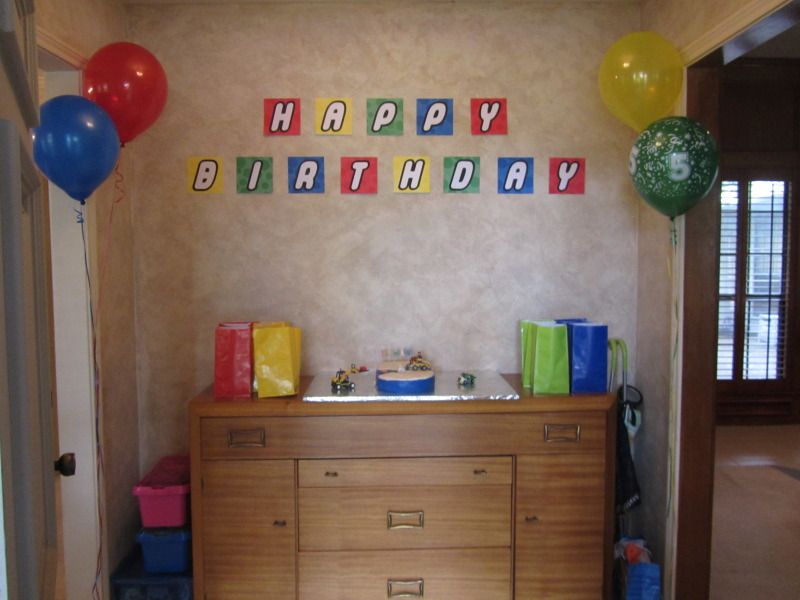 This was what you saw when you entered the house. I made the sign, the favor bags and most of the favors, and the cake. The balloons I bought at Party City.
This was the cake I made. I have a separate post about it here:
https://www.craftster.org/forum/index.php?topic=408916.msg4825768#msg4825768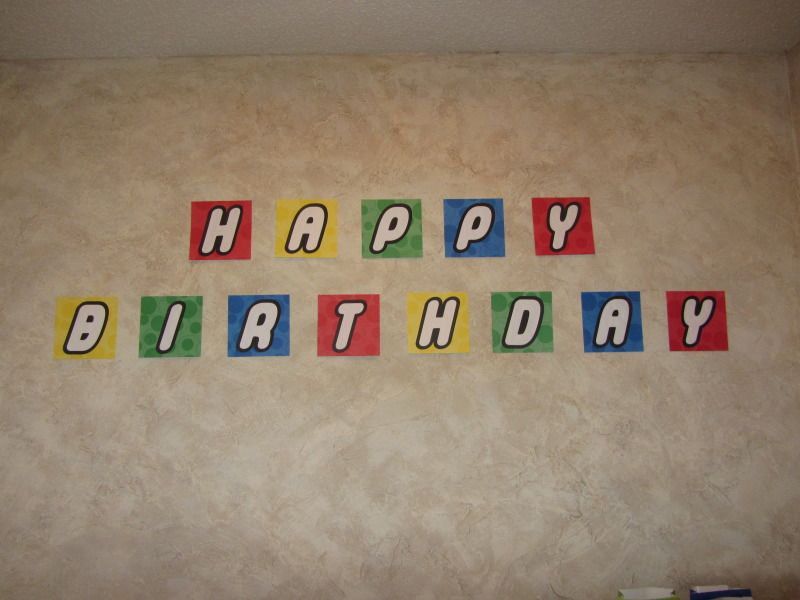 This is a close-up of the Happy Birthday sign. I found the Lego font for free online. It's called Legothick. I forget where I downloaded it. I printed the letters on white paper, cut them out, and hot-glued them to scrapbook paper I found in the dollar section of Target. It looks similar to this one:
http://showerofroses.blogspot.com/2011/02/lego-themed-birthday-party.html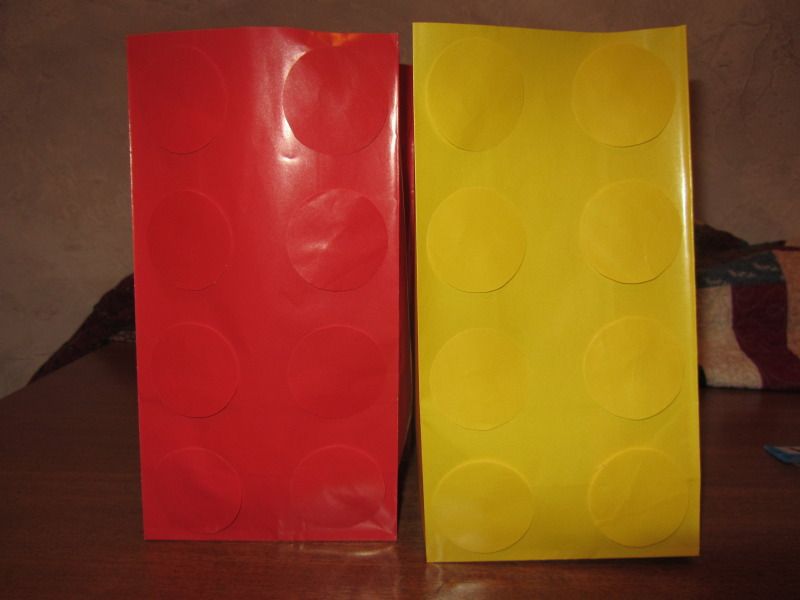 Red and yellow favor bags. I took apart one bag and cut circles from it to use as the Lego pegs on the rest of the bags. I hot-glued them on with a big gob of glue so they would stand up a little. Idea from here:
http://soakitallin.blogspot.com/2011/01/ethans-6th-birthday-lego-party.html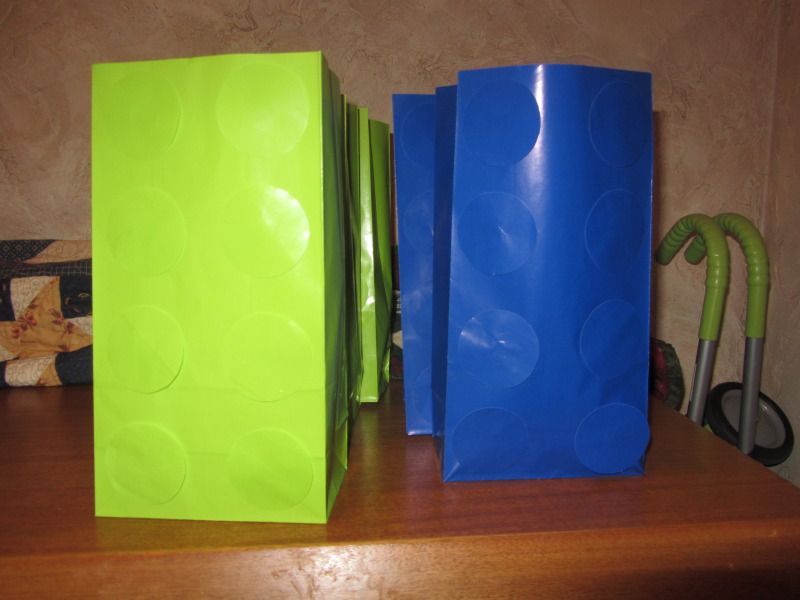 Green and blue bags.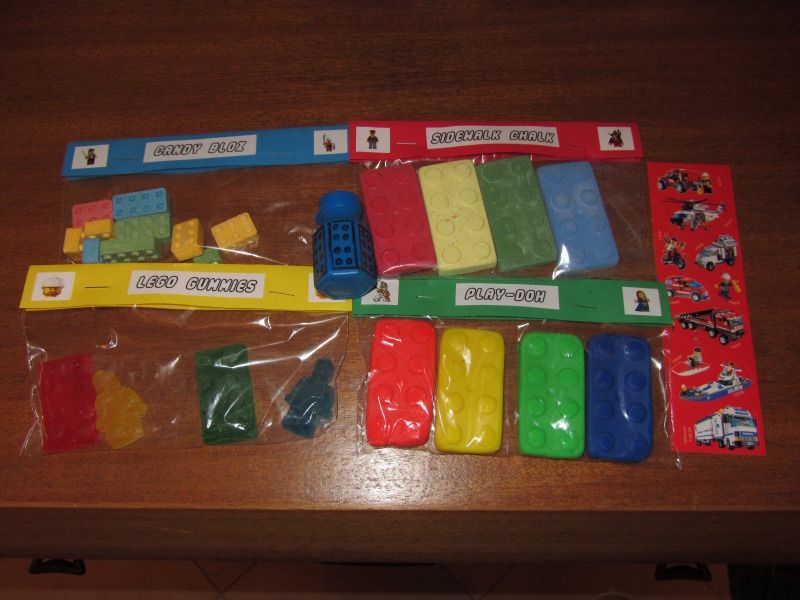 All the stuff that was in the favor bags: Candy Blox candy, bubbles, sidewalk chalk, stickers, Play-Doh, and gummi Legos.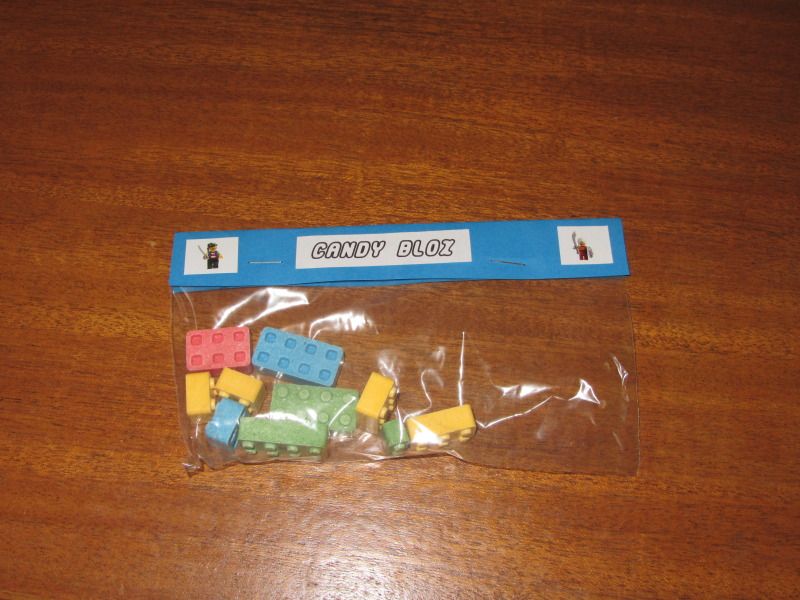 Candy Blox candy I found at the candy store in the mall. They stack like real Legos. I put them in a snack size bag and made a label using blue printer paper. I used the Lego font and printed out the words on regular white paper. The stickers are from my son's Minifigure Lego sticker book.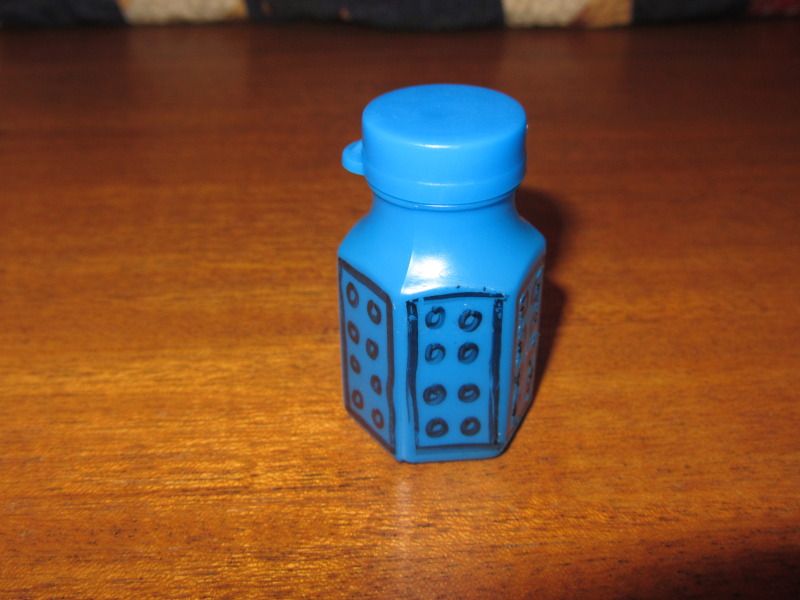 Bubbles that I drew Legos on with a black Sharpie. Idea from here:
http://karascreativeplace.blogspot.com/2012/03/lego-brick-bubbles-and-lego-party-bags.html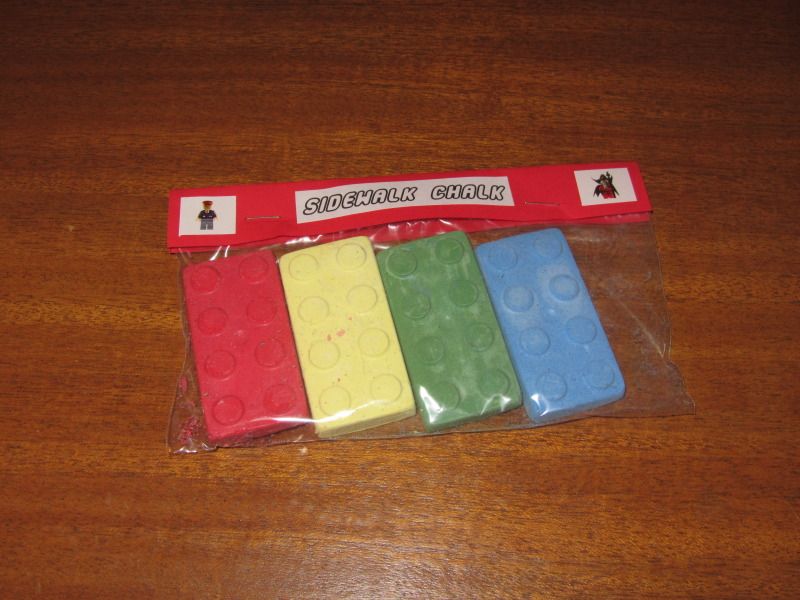 Sidewalk chalk that I made using plaster of paris, tempera paint, and water. This was actually one of the most time consuming things I did. I first tried making the chalk in the silicon Lego molds that you can buy, but the pegs were too small and the chalk liquid wouldn't go in the holes, or they would break off when I tried to take them out. So after trying a few times with that, I bought another mold, a clear hard plastic mold. This one worked much better, but it still took a while to make 12 Lego chalks in 4 colors.
I've been wanting to make homemade sidewalk chalk since my daughter's birthday last year, which had a fairy/star theme similar to this:
http://christyrobbins.blogspot.com/2010/06/homemade-chalkin-time-for-4th.html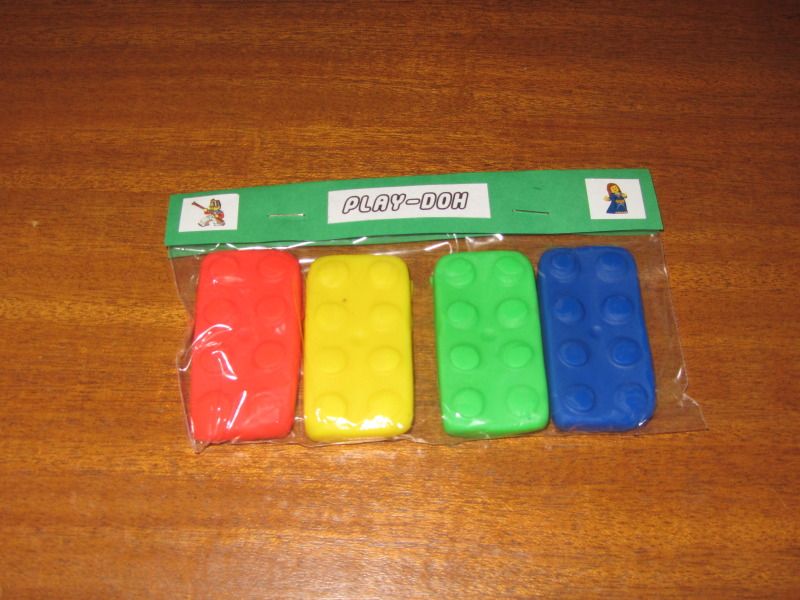 Play-Doh Legos I made from the same mold as the chalk. I got a great deal on big boxes of Play-Doh at Target around Easter, so I wanted to use it in goody bags for my kids' birthdays. Idea from here:
http://rootsandwingsco.blogspot.com/2010/02/kool-aid-playdough-legos.html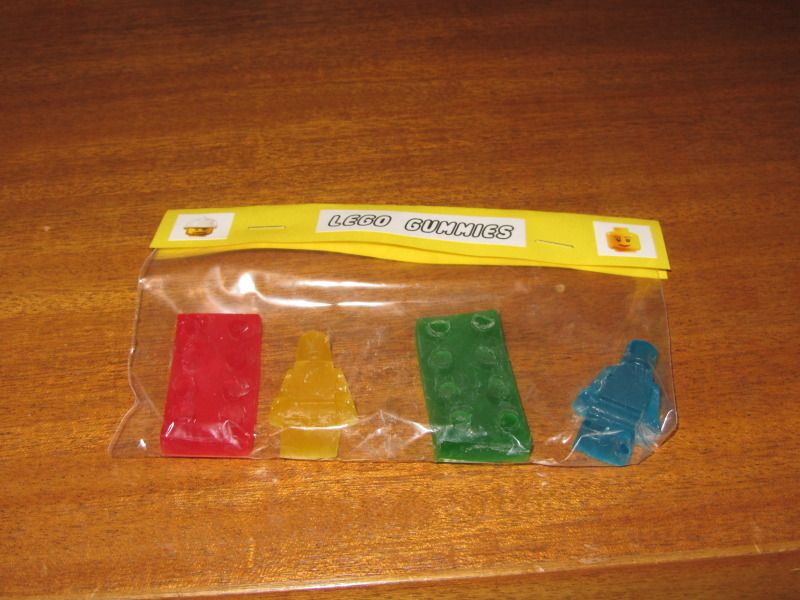 Gummi Legos I made using the silicon molds. These turned out better than I thought they would. I followed the instructions here:
http://www.skiptomylou.org/2010/01/06/homemade-gummi-candy/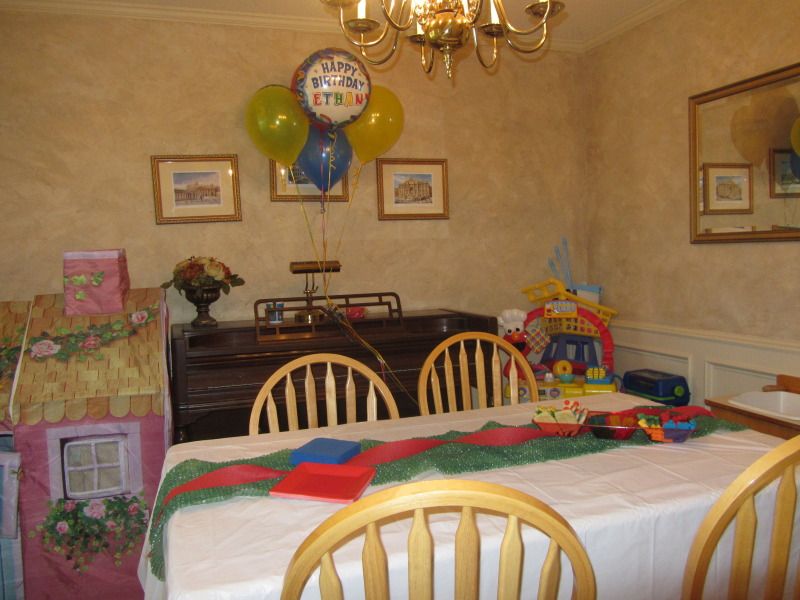 Dining room where we ate pizza and cake. I spray painted bubble wrap green to use as the table runner. Idea from here:
http://taylormadebaking.blogspot.com/2010/09/lachlans-7th-birthday-party-part-2.html
Other sweet snacks were sugar cookies with dots of icing to look like Legos, candy melt Legos and minifigs made from the silicon molds, and extra gummi Legos. I got square red plates and square blue napkins at Dollar Tree.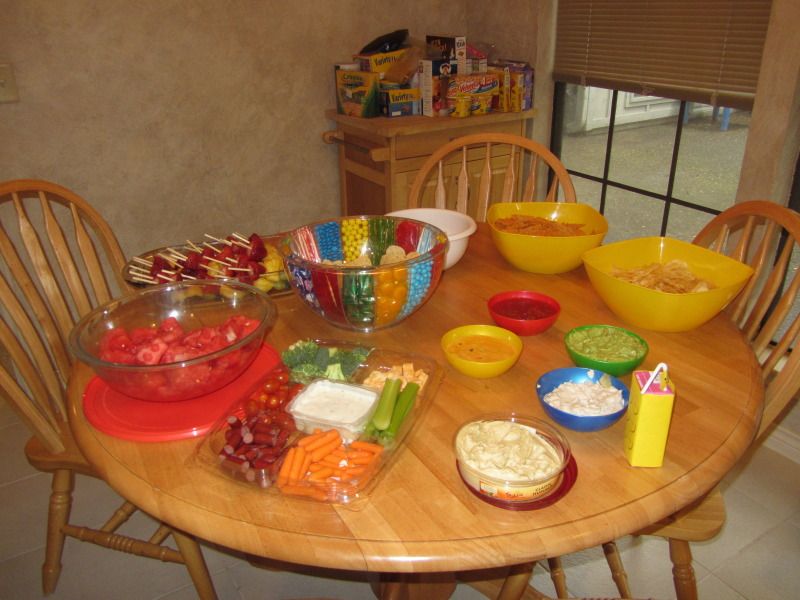 Kitchen table with salty snacks, and fruit and veggies. We put the dips in four little M&M bowls we had in the four party colors.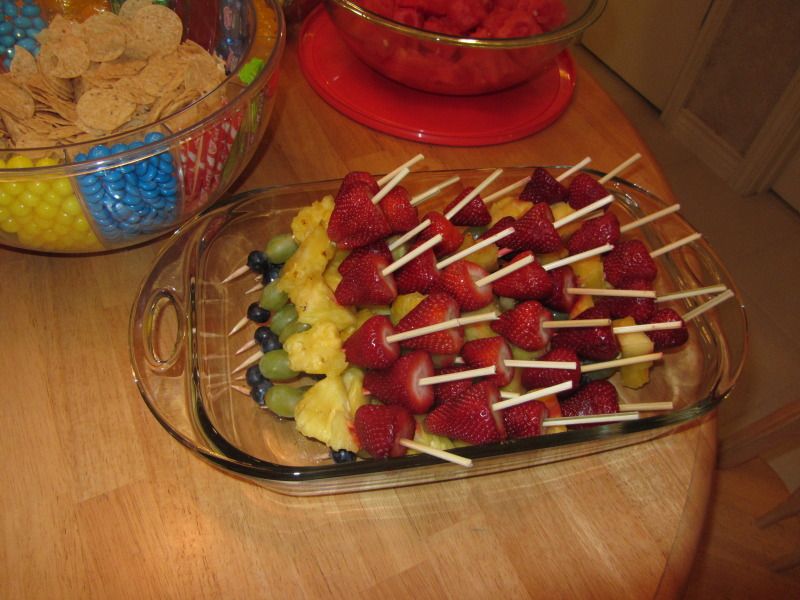 Fruit skewers my sister made in the four party colors. You can also see my fill-a-bowl with candy in the four colors.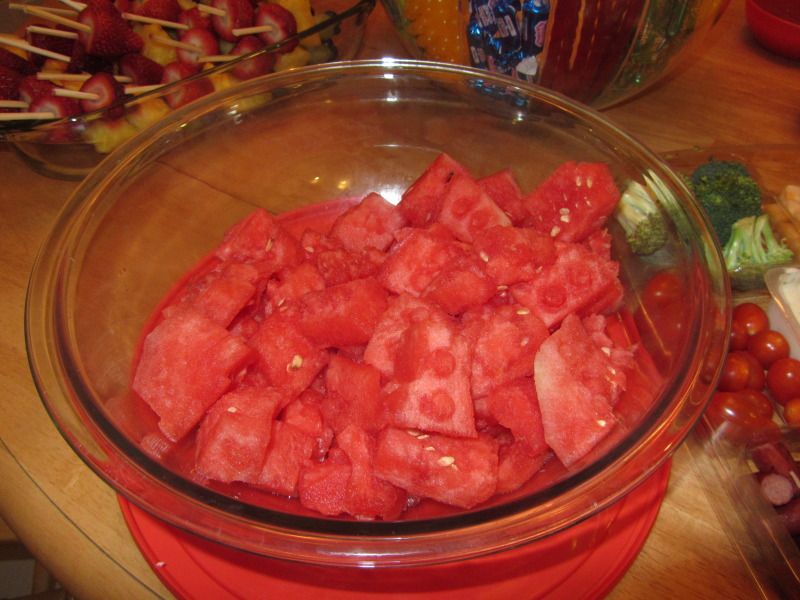 Watermelon Lego bricks that my sister made. I got the idea from here:
http://blogs.babble.com/family-kitchen/2011/07/08/watermelon-legos-on-a-stick/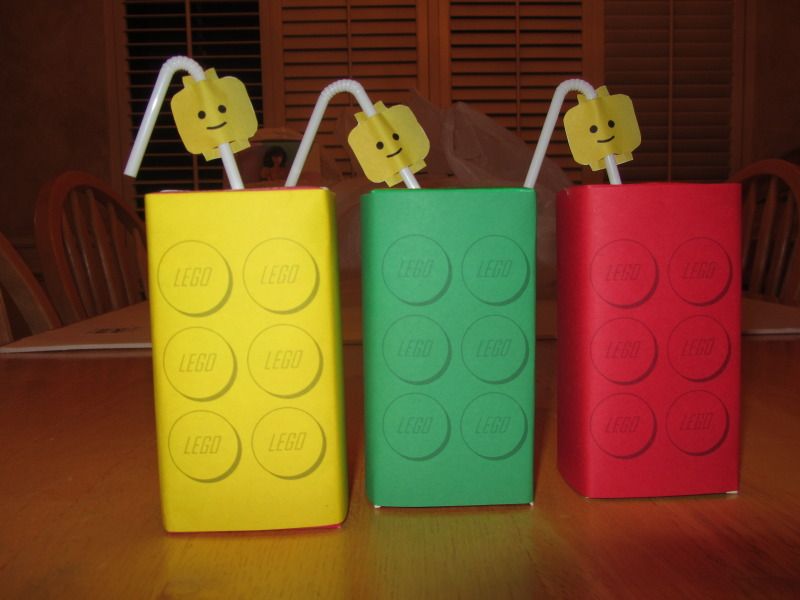 Juice boxes that I made look like Lego bricks.
I used the free printable from here for the box cover:
http://deliacreates.blogspot.com/2011/01/lego-juice-box-bricks.html
I used the free printable from here for the straw Lego faces:
http://aussiepumpkinpatch.com/uploads/pdf/LegoParty.pdf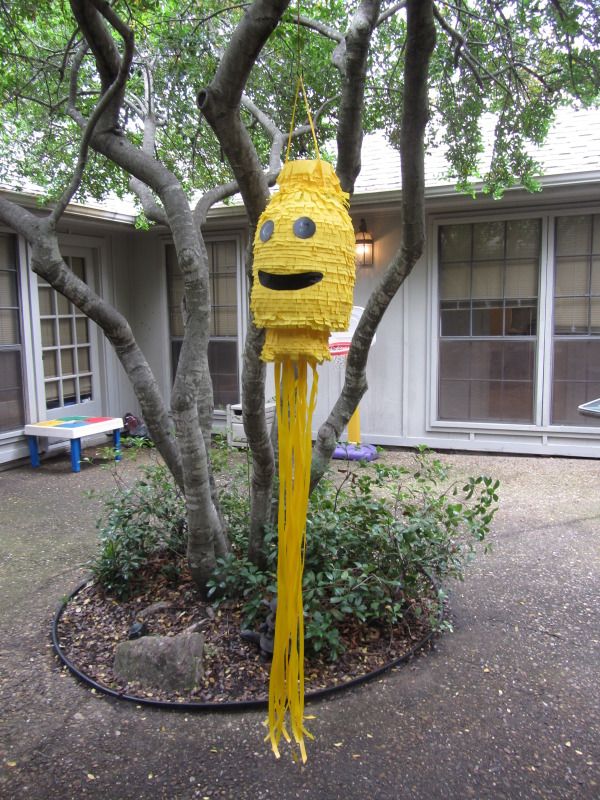 Lego head pinata my sister made. Idea from here:
http://craftypartyideas.blogspot.com/2009/11/lego-birthday-party.html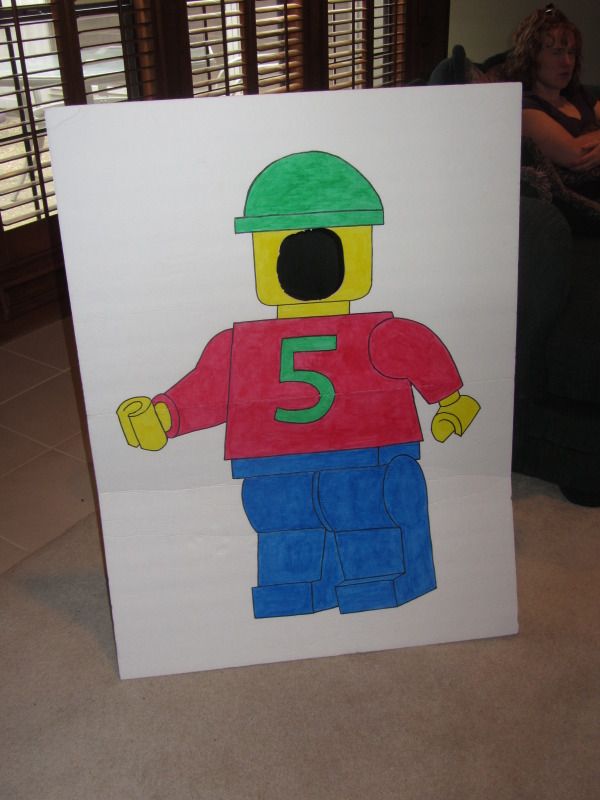 Lego photo board my mom made. We're a crafty family.
Idea from here:
http://www.bigdandme.com/2011/05/lego-mini-figure-party-boards/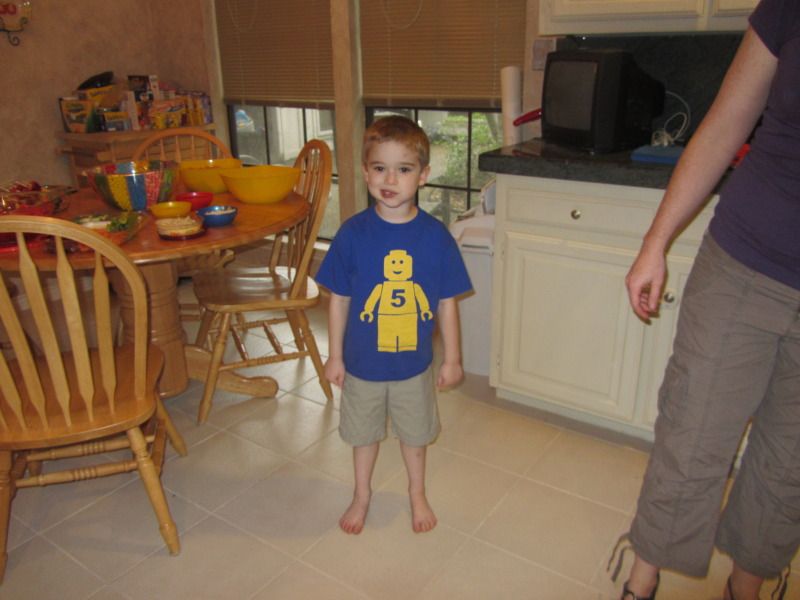 I made this shirt for my son using freezer paper stencils. It was time consuming to cut out the Lego man with an exacto knife, but it turned out exactly like I wanted it too. This was my first freezer paper stenciling, and I will definitely do it again.
I used the Lego man picture from here:
http://www.4shared.com/photo/68fok37J/Lego_man.html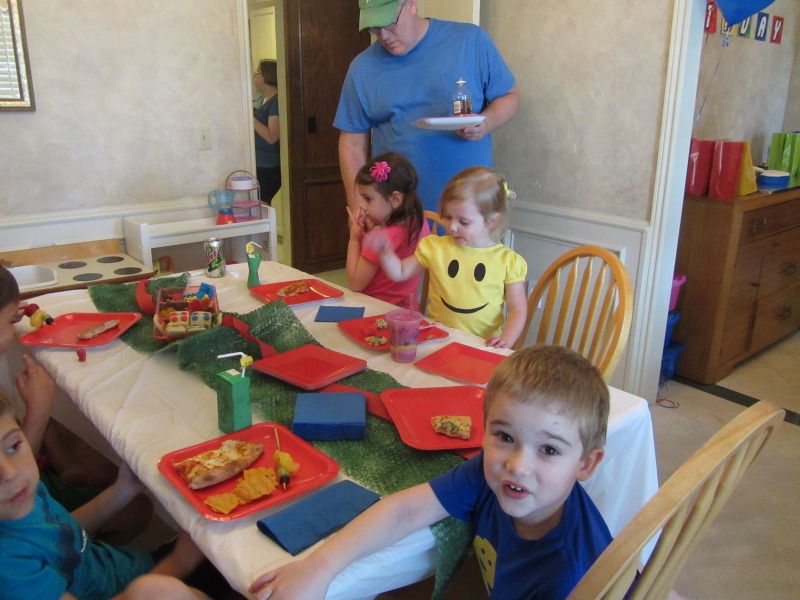 You can see the shirt I made for my daughter to wear at her brother's party in this pic.
Idea from here:
http://searchingoutsimple.blogspot.com/2011/07/celebrating-seven-with-legos-and-water.html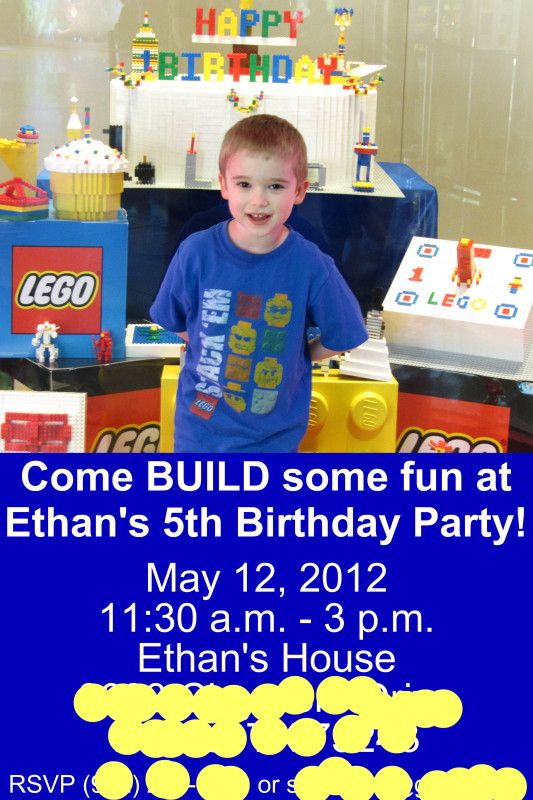 The invitation I sent out. I just edited a picture of my son outside of Legoland using Picasa and stickers on Picnik. Since I made it, Google kind of got rid of Picnik though, so I wouldn't know how to make this again now.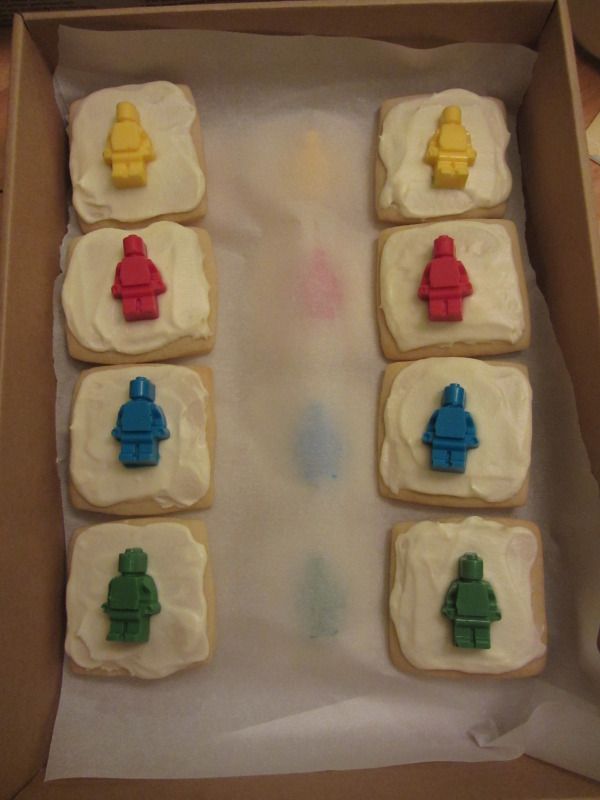 I also made these cookies for his school snack earlier in the week. Sugar cookies frosted with buttercream with a candy melt Lego man on top.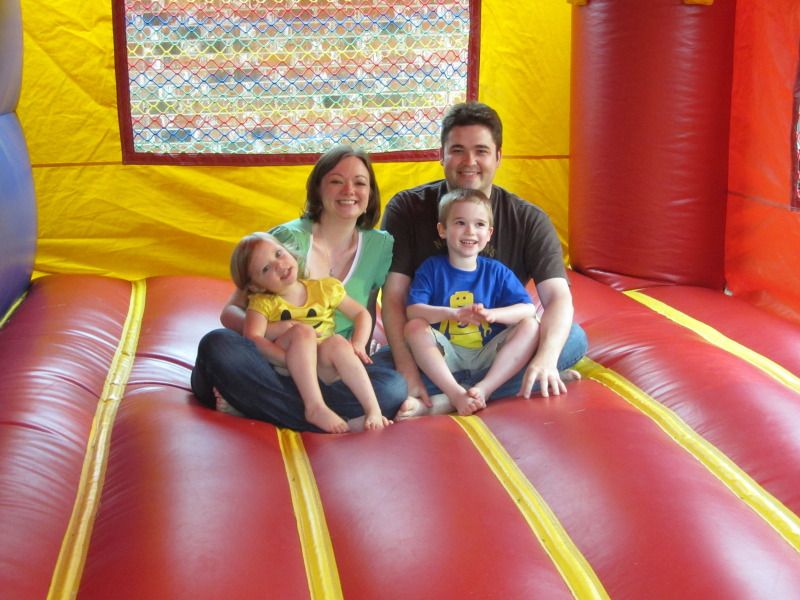 Finally, a family picture in the bounce house. I kind of lived and breathed Legos for a few weeks, but it was totally worth it.