So I found these tights in my daughter's clothes the other day. I'm not sure if I purchased them or if they were given (handed down) from a friend. Anyway, I think they're adorable and needed a dress. I planned to buy some fabric to make said dress and stuck the tights in my purse for matching purposes. Days passed until I had a chance to go shopping. All of my short sleeved shirts are packed away for winter, but I was hot and wanted something cool to wear. I looked through my closet and found this shirt.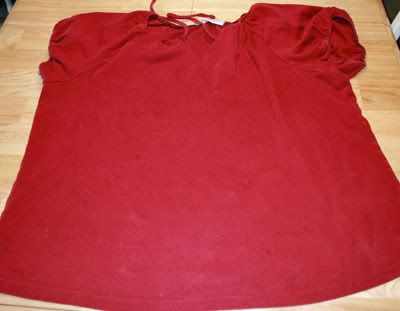 It's not maternity, but it is a 26/28 which is a 3X or 4X I believe. I have pics of me wearing it when I was pregnant with my little girl. I realized it was the perfect color and was inspired to make this.
Here's a detail of the hem. I did a fancy, schmancy stitch on my machine using a varigated machine quilting thread. The fabric puckered because I had to pull it a bit thereby stretching it. I like the puckery effect though. I did this around the neckline and hem and think it's rather cute.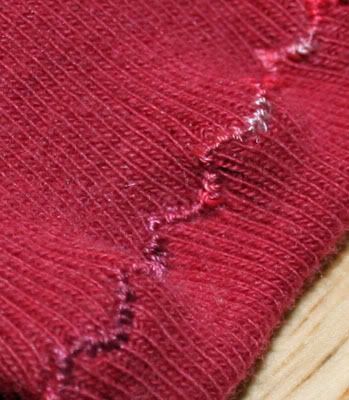 Action shot with the tights that inspired the dress. My daughter seems rather pleased with the dress doesn't she?
Or perhaps it's the donut she's eating....