Ok, I am ready to post pics:
1) The material used:
a wood plate (25 cm/9.5 in X 60 cm/23.5 in, 2 cm/0.7 in thick)
two sheets of birch plywood (0.6 cm/0.2 in thick, 40 cm/15.5 in X 60 cm/23.5 in)
wood clue
acrylic paint
a few things to decorate
2) first I draw the silhouette of the forest on the two thin sheets, marking the middle of the sheet with a ruler. Mark the first one from bottom to the middle, the second one from the middle to the top. The mark has to be the same wide as your sheets are thick. This is essential to do, you will cross the two plates later.
3) After finishing your silhouette, you have to cut the wood. I used a electric saw.
4) Smooth the edges (I used my dremel to do this)
5) Carve the thick wood plate (which will build the ground) where the thinner plates will stand later. This is important, because if you don't do this the forest will be not so durable.
Use sand paper to make all surfaces smooth.
Remove all the saw dust
6) Glue the crossed plates together, then glue them to the ground.
7) The fun beginns: Paint your forest as you like it (I did two layers), seal it with clear lacquer, stick glass nuggets to the ground at the sides of the top plates, decorate with wood stickers, etc.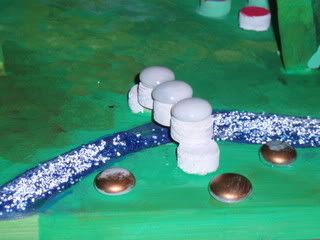 If there are any questions left - just ask!