'Sup people reading this post.
This is a ring I made (or composed) from a semi-precious stone and a ring base. I forgot what the stone was called:
The date doesn't make sense, my camera is crazy.
This is a blue semi-precious stone + some kind of pin I turned into a ring. I removed the pin-part with tongs and filed the back until it was smooth. Then glued it to a ring base. Then there is a braided suede cord which I use as both a bracelet and a belt.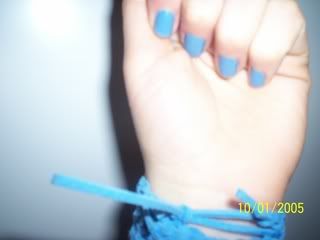 AWSUM CLOSE-UP
I SWEAR it's a coincidence my nailpolish, bracelet and one of my rings match. It's just a colour I'm into right now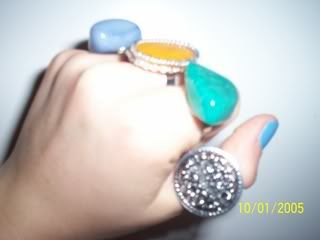 All da ringz including a crazy yellow ring which is something I made but looks weird and wonky and won't show a close-up of
I only have easy 30 minutes or less DIY's
Hehe, I'm too impatient to try bigger DIY's, maybe this summer. I've wanted to learn to sew for a long time, but I think that will turn out hopeless.
Well bye people!