Hello fellow craftsters!!! This is my entry, Morgana from the League of Legends online game. I made this costume for my daughter this year and she absolutely loved it. I will be honest, I was hesitant about making it, but glad I did. I think my little girl did a fine job of picking out what she wanted to be. I did my research on the internet and only found 2 others that has made a Morgana costume. So I consider it an original, a nice choice.
Items I crafted:
Bra - Constructed from a recycled woman's dress that was bought at the good will. Had to deconstruct and cut it to fit properly for a 10 year old. Added gold piping, elastic, and fasteners.
Gauntlets - Made from scratch. Complete with detail stitching, eyelets and ribbon. (These are my favorite item in the costume)
Skirt - Made from scratch. NO PATTERN! It has three layers of twill fabric in order to capture the same look that Morgan had. Distressed with paint to give that tattered and torn look. I also has to starch the bottom area because when Morgana walks, her skirt does not flow like a normal dress would with a train. Its very stiff and intimidating as she is almost floating across the floor.
Belt - Made from scratch. I had some black material in my stash that had a leather appearance, so I chose this and had to paint it with a dry brush technique with some green paint. It was my best option since I looked everywhere to find a green faux fabric with no success.
Buttons - Bought 50 cheap buttons on ebay. Filled the holes, painted, distressed, and sealed them. These took a while to achieve.
Headband - Braided red leather from the jewelry section in wal mart. Not shown in the last picture since that was taken on a different night and I forgot to put it on her.
Wings - My first ever! Made from scratch too. Made with gauged wire, foam core board, elastic covered with ribbon for the shoulder pieces, a velcro elastic strap that was attached underneath to balance out the weight. And then some hand dyed cheesecloth that I glued on with a handy glue gun. They came out exactly how I wanted them too since they are a key item to her look.
Things I didnt craft - The leotard, the wig, and the hoop skirt beneath the Morgana skirt.
Anyway, I hope you guys like it and crossing my fingers it will be an inspiration for someone else try in the next year to come. Hope everybody had a wonderful Halloween too and please have a nice day! Thanks for looking!!
Dawn
(Oddly I made this Morgana costume for my daughter Lauren, but I also have a daughter named Morgan. Assuming I was destined to make this costume? I think so!
)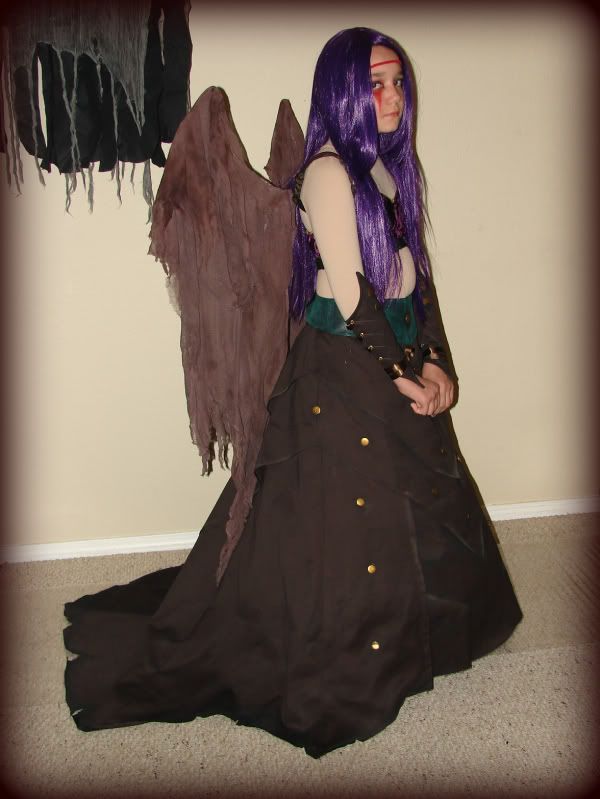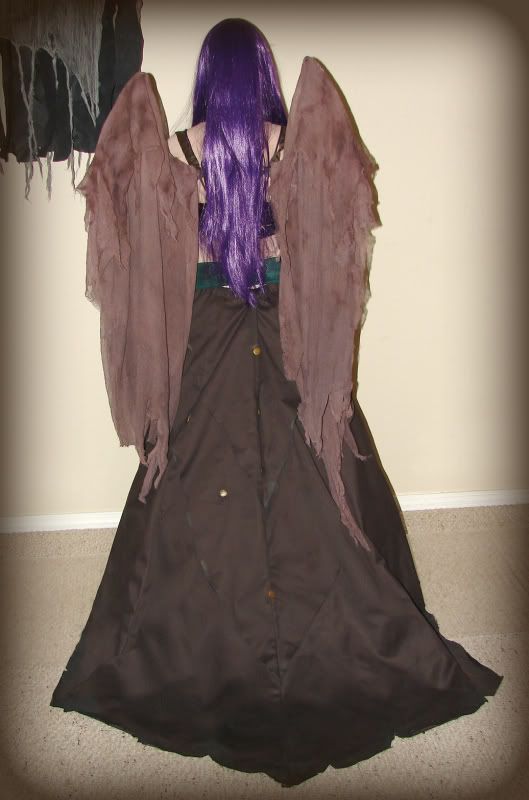 This one shows the bra better:
And the true Morgana! (My only picture reference)