Santa wants the kids these days to think he's cool again!
All their hippity hop, ipodtunephones, and myspaces, he just doesn't understand it!
So in an attempt to regain his coolness in the new young generation, Santa tried out some new hair-dos, & beard-do's.

I drew these with ink on 4 x 6 matte photo paper. My friend gave me about 100 of them cause she didn't want them anymore, so I just went nuts with 'em.

I drew a lot.



Then I picked my 10 favorites to color!
Sadly, I found out halfway through that my markers were running out. How depressing. Oh well! I tried to make the best of it.



Alternative Santa. The background was neon yellow, but my scanner decided it was peach.

Sketchy Santa



Pretty lady Santa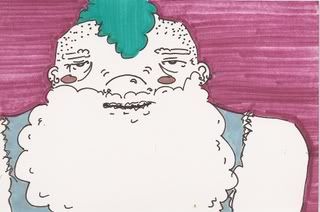 Tough Santa



Trendy Hoodie Santa



Chill Santa



Britney Spears Santa



Hipster Santa



Harry Potter Santa



Panda Santa


I'm not sure what I'm going to do with these yet. I might not do anything with them, I might shove them in my stepsisters/sisters stockings, I might use them as giant TO FROM tags, who knows.