As soon as school gets out for break, I always go mental from the sudden shift from having mountains of homework, to having absolutely nothing to do besides work at my lame-oid retail job.
So here is a bag that resulted from the chronic need-to-do-stuff-constantly-disease that college has permanently given me.
It's an odd bag, and I have no clue how I made it, since I just started sewing, and kept adding things and adjusting until I decided that it was done. It's lined and has all kindsa pockets, inside and out, including a little zip inside pocket, and some pen-holding slits.
But anyways, I like it because it reminds me of some kind of misfit granny who shops at flea markets and wears macaroni jewellery that her grandchildren made in pre-school.
The strap is knit out of this odd nylon "yarn" that I got at value village for about 50 cents. Super stylin' nylon!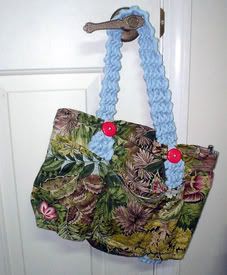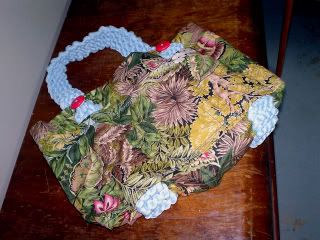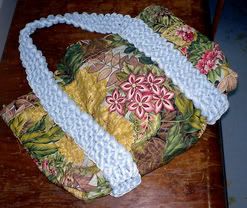 Thanks for looking!