So this year for Halloween I plan on being Ruby Rohd from the Fifth Element. You know, the guy Chris Tucker plays? I want to do the leopard suit version(
http://img234.imageshack.us/img234/9121/lecinquimelmentruby2ro.jpg
).
I bought a 1xl sized leopard print long sleeved dress from Goodwill, and I plan on turning it into a jumpsuit. The dress buttons down the front and has more than enough fabric to play with.
I want people to be able to recognize me, unlike my costume from my Superhero Birthday Party when I was Darkwing Duck. Everyone thought I was Carmen Sandiego because I ran out of time to make a beak. Oh well...
Does anyone have any suggestions about how to make the dress into a one piece pants suit? Or ideas on how to make the wig? Right now I am thinking of taking a blond hairnet and weaving yarn through it and then sewing a toilet paper tube covered in yarn on the front. It might work... I hope.
So this isn't all text (sorry I couldn't post the actual pictures, I havn't posted 10 times yet..):
Me as Darkwing Duck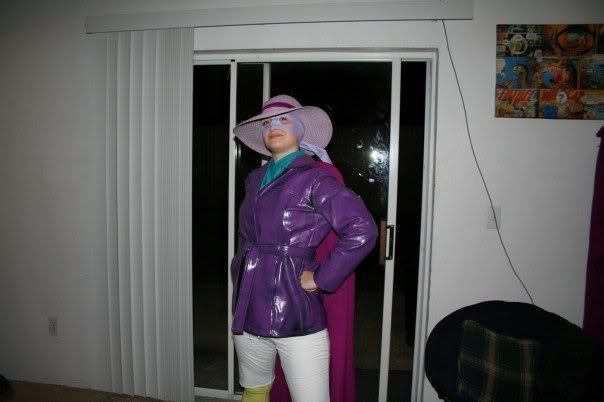 and me again as Darkwing and my boyfriend as Artie the Strongest Man in the World (From Pete and Pete...)