ok so im making a penguin for my friend, but i cant decide which to do.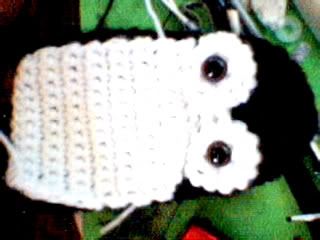 thats with the white circles around the eyes. i like this one best but does it look too much like an owl?
and heres without the circles around the eyes. its kinda weird looking because i cant get a good pic with my webcam, but if i did this im hoping it would look like this
http://farm1.static.flickr.com/112/306674640_45da5efef5.jpg?v=0
which is what i based mine off of.
and of corse i still have to make the beak and the feet and the wings, and plus its not stuffed yet, but thats next haha. so which one do you think looks better?