So my mom is a little crazy, which works out well because so am I. She has this fake rooster in her kitchen that she loves, it even has a name (although I can't remember what it is). When I saw these little fat chicken in Micheal's craft store I just knew I needed to get one for her. But when I got it home, it looked so plain and store bought that I decided I needed to spruce it up a bit. I have called my mom Helga since I was 13 (because at that age that was the worst thing I could think to call her and I envisioned her as a large tyrant viking woman despite the fact she's not at all). Calling her Helga has become a term of endearment over the years so I bring you the Helga Chicken! I haven't even baked her helmet yet because as soon as I put on the horns I was thrown into uncontrollable giggles because it's so perfect and I couldn't wait to bake it to post it
Here she is in all her viking glory: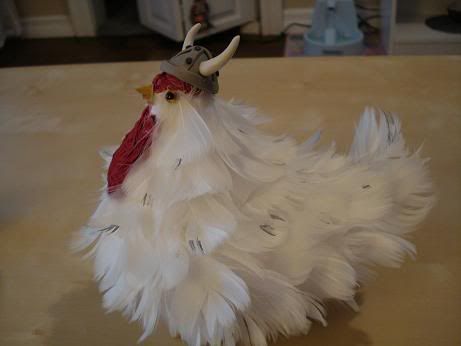 A close up of her helmet (I don't know what the little yellow dot is, I have to take it off before I bake it):
Before she set sail to pillage and plunder she made a short stop to the Kentucky Derby: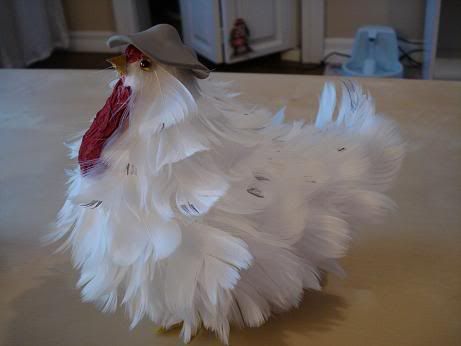 And here she is with no personality at all, how sad: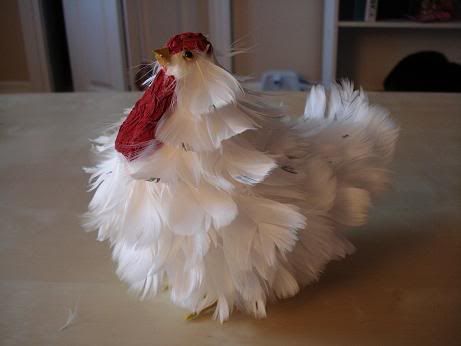 What do you think, I'm pretty new to the polymer clay scene so does she look like a Helga chicken?