I am a terrible procrastinator. I was actually crazy enough to start making Easter dresses for my two girls last week. I had the materials, but no patterns, so I decided to make the patterns too. I've made patterns for myself, but I haven't done anything more than simple elastic waist pants for my girls.
I tried to draft the patterns from scratch using instructions I found online, but they ended up not working out. So, I posted on the questions board, and another craftster, Cheyenneswthrt07, suggested tracing some of my girls' existing clothing. Thank you so much for that suggestion! I did exactly that, and didn't use the other directions at all. I am really happy with how the dresses turned out. My oldest daughter wasn't even at home for me to try it on her, and it fit great. The dress for my youngest didn't fit as well as I had wanted, especially in the chest, but since I finished it on Saturday, it had to make do.
The best part, they were both made with a thrifted bed sheet and pillow case. It only cost about $2.50 for both, and I have material left over. The lining is from a white bed sheet, but it was one I don't use anymore, and therefore didn't cost anything. I cheated on the hems. I used the hem on the sheet for the dress hem. I was up till 4 am Friday night working on the first dress, though, so I was willing to take any shortcut at that point!
Here's my oldest daughter (who, you might notice, decided at her aunts house to get a fake tattoo the day before Easter
)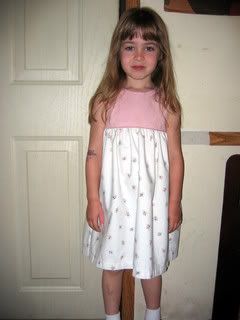 I used vintage buttons from my stash for the back closure. It is the first time I used the automatic button hole on my new machine, and I will definitely be using it more now that I know how much easier it is.
This one is basically the same front and back. There are two buttons on her right shoulder to get it on and off, but she wouldn't let me get a pic of them. They're the same buttons as on the first dress.
A few more just for fun!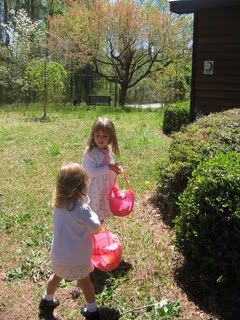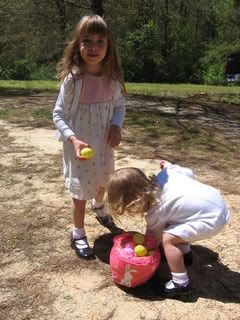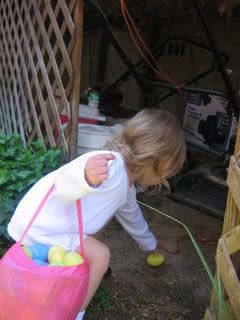 I got a little carried away with the pics, but I had a lot of fun taking them and wanted to show them off. I know this was pretty long, so thanks for looking. Any and all comments are welcome and appreciated!