So, me and my husband are slowly fixing up/remodeling the two bedroom singlewide mobile home we currently live in. We have two little girls and last year we decided to have another child (you know, cause two kids in a home less than 1000 square feet was just too easy lol).
Anyway, we ended up having a little boy, and we decided not to put him in the girls' room because we didn't want to take away any or their space for the baby and cause anymore sibling hostility than necessary. Plus, we hope to get in a bigger home before too much longer, so we decided to put him in the only other room with the space, the living room. I was determined that it would not be tacky though. No overly baby-ish stuff.
The living room connects with the kitchen and I have been using a black, white, blue, and red color scheme. Also, I'm going for a retro feel in the kitchen and classic/contemporary in the living room. It's still a work in progress, but I knew that the baby's things would have to fit these guidelines. I found the perfect mini-crib online, but it's not easy to find baby stuff that's not baby-ish, and finding it to fit my color scheme AND fit a mini-crib, impossible. So I made everything myself. I decided to use retro robots as my inspiration once I found out I was having a boy.
Here's the crib. I made the sheets from larger thrifted sheets and the bumper pads from some great fabric I got on Etsy. It was designed by the seller and was the only fabric I could find to work. You can also see the vintage suitcase where I keep his clothes. He's 5 months now and so far it's still big enough!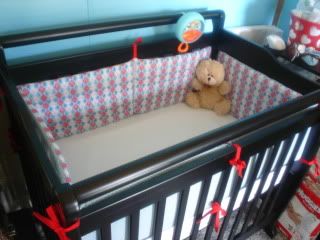 Here's a close-up of the fabric I got off Etsy. I used it for the inside of the bumper pad and the diaper stacker.
And the diaper stacker.
This shelf was already in the room. We use it for holding cd's, dvd's, etc. We cleared the top and the top two shelves for the babies things.
And my favorite, the mobile!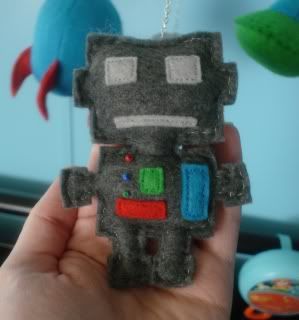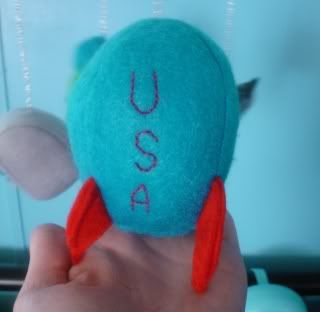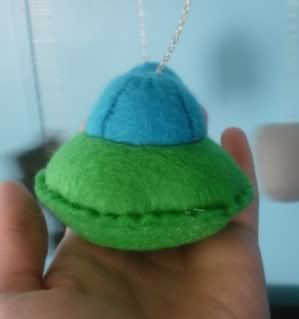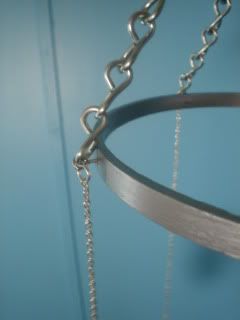 I made all the patterns for the mobile and hand sewed them all. It took much more time than I had expected, but it was worth it to see my son smiling at it. He loves it! Thanks for looking!