I can't take credit for this. This was totally created by my best friend. I had to share this on here, and she said it was ok.
She lives a couple hours away, but we talk on the phone at least once a week for hours. Among other things, we usually gripe about our significant others. Between the two of us we come up with some interesting ways to get them to do things, or punish them for something they've already done.
A couple of weeks ago I was telling her about our Christmas tree that is still sitting on the deck. She beat me by saying theirs was still in the house. She can't get it out on her own, so she was trying to motivate her boyfriend to get it out. I told her she should decorate it for valentines day as a joke so he would get the point and take it out. She liked the idea, but I had no clue she would do all this.
She didn't want to put any money into it, because she wanted it to be thrown out, so she got creative with what she had. She made construction paper hearts to hang, and she also soaked marshmallows in red food coloring to make a garland. Unfortunately the plan backfired. Her boyfriend thought it looked so great that he said they were keeping it until March. lol I can't believe the tree is still so green. She said it hadn't been watered since dec. 20th! It's ok though, they don't have lights on it.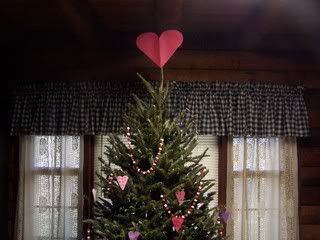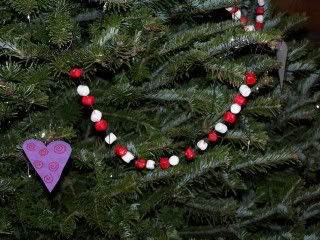 Sorry this was so long, but the story is the best part. Thanks for looking!