As many of you surely know already, the trickiest thing about making crepes is cooking them, and even that can be fairly easily mastered -- heck! If I can do it, so can you!
The morning wasn't quite pretty enough, so I whipped up a batch of crepes, threw in some fresh raspberries, rolled up each crepe, squeezed a little lemon juice over them, and sprinkled some Splenda on top. Et Voila!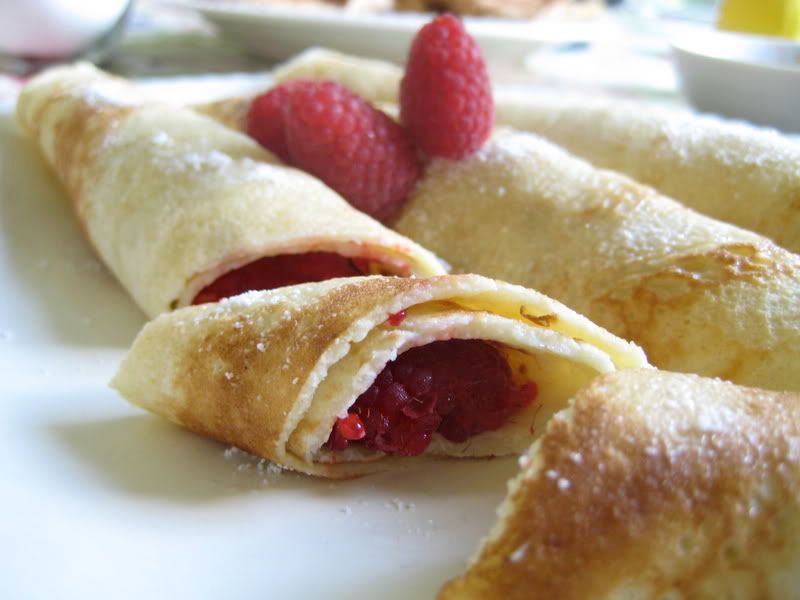 The recipe is so simple:
1 cup flour
1 cup milk
2 eggs
Whisk together until well blended, maybe even a little bubbly. The consistency should be such so that it just coats the whisk wires as it drips back into the bowl. If it's too thick, add a little more milk.
Have a hot frying pan ready, the shallower the better. I use a regular one and I manage to flip the crepes one handed fairly well...most of the time.
Spray a light coat of cooking spray onto the pan and then pour some of the batter into the pan, turning the pan as you pour so that you get a nice, relatively even layer of batter in the pan. Once the top turns a darker shade of beige and the edges start turning in, loosen the crepe by giving the pan a little shake. If it seems nice and loose, you're ready to flip! Try your skills with a one-handed flip, or get a large turner under the crepe to do it pancake style. Give it 30 seconds or so on the other side and then flip the whole crepe onto a plate to keep warm in the oven while you putz your way through the rest of the batter. Re-spray the pan before your next pour and away you go!
This recipe usually yields about 5 large crepes, and 3 crepes make a decent breakfast portion. If you have a smaller skillet, you can make more, smaller crepes.
These are simple, unsweetened, good for you crepes. They go well with sweet and savory extras alike. You can smother them in syrup, use them to sandwich a cooked egg or omelet, or even stack them for a crepe gateau or crepes suzette. My preference? Fruit, lemon juice and sugar/sweetener. Pair that with some pressed coffee, some smooth jazz and some "me time" and you've got a morning that's pretty darn close to being perfect.
Enjoy!