So I was sitting at the kitchen table, sewing a purse, when my mom walks in and says my package from woobie arrived. Squee! I hurriedly cleared off the table, grabbed my scissors and opened that baby right up. I opened it and saw what seemed like a ton of little packages in pink tissue paper with a card on top. I opened the card, which had little notes for each bundle inside. Per instruction, I opened the bundles according to number, reading the corresponding note before I did so. Each note had a little quote from one of the characters, and a note from woobie. <3
The first note was this:
""Does it seem every supply store has the same five rag dolls..."
I really hope you like your very own Inara. I've tried to duplicate her lounging pajamas that were featured in Shindig and Our Mrs. Reynolds. Oh.. her necklace can be worn by you as a bracelet."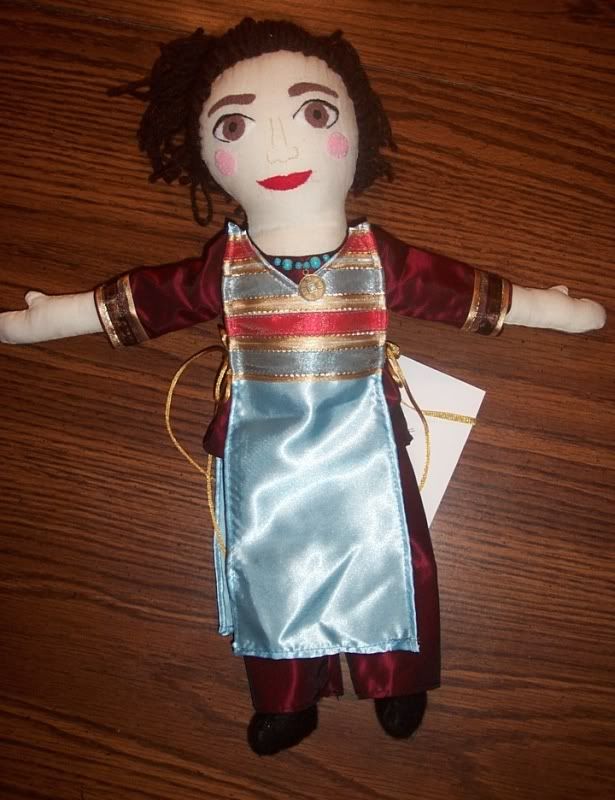 The note for bundles 2 & 3 had the same note:
""Yeah, em, you left some of your stuff in a trunk..."
Jewelry & a comb with an oriental feel.. inspired by both Inara and Kaylee."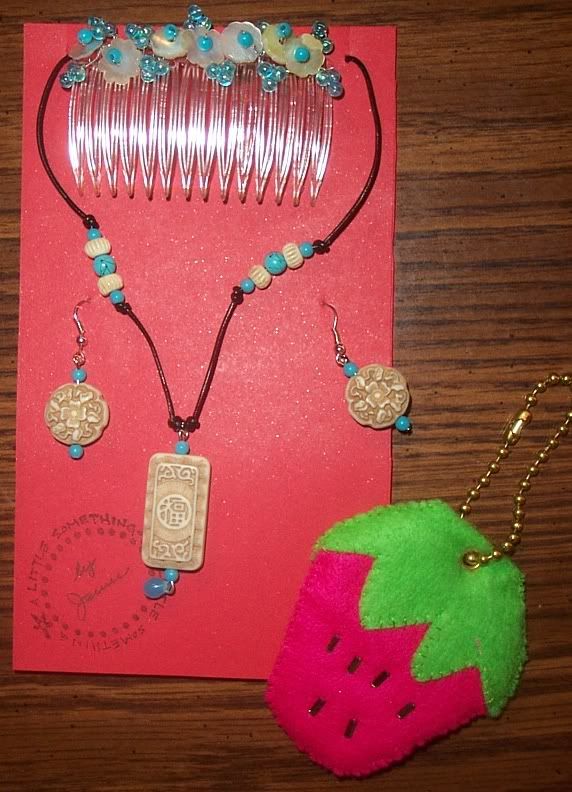 The note for bundle four read:
""Oh, Grandpa!"
A very Kaylee keyring."
Bundle five had this note:
""Fruity Oaty Bars, make a man out of a mouse. Fruity Oaty Bars, make you burst out of your blouse."
Inspired by juice box purses... I'm sure that in the future, girls out in the 'verse will be carrying these."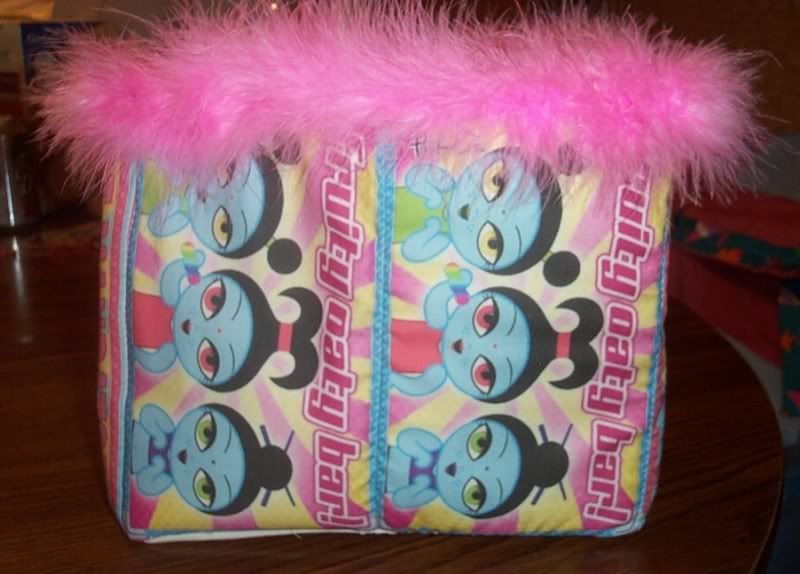 And last but not least! Bundle six had this note:
""Look at all the pretties.."
This is the first jacket I've ever made. I really enjoyed the challenge. I don't have a serger so I learned french seams and I used seam binding to try to keep raveling to a minimum. I hope it comes close to what you wanted."
My notes:
1. The Inara doll is gorgeous! I want pajamas just like hers, lol. She's even got little black socks! I also love that I can wear her necklace as a bracelet.
2. The necklace and earring set is so cute, and I love that the necklace has some of the same beads as plushie-Inara's necklace, so it'll all match.
3. The hair comb is beautiful! It's so pretty, I love the little blue beads. It's in my hair right now, lol.
4. I have a giant strawberry keyring!!! Haha. Like Kaylee, my favorite fruit is strawberries, so I absolutely adore this! I got hungry for strawberries as soon as I saw it.
5. The purse is so cute!! I'm not usually a big fan of the color pink, but this totally won my heart. The inside lining is pink stripes, and there's something crinkly inside the outside fabric and inner lining. Possibly something to keep it waterproof?
6. OH MY GOD I HAVE MY OWN KAYLEE JACKET!! *cough* Anyway. This is GORGEOUS. I honestly would not have known this was woobie's first try at making a jacket unless she told me. It fits me perfectly, except for one part - the arms are too short. I'm not sure if that's on purpose, but I'll act like it is.
I love it!! I plan on wearing it next weekend, to a show some of my friends are playing.
Everything was so professional-looking! Even the packaging. I'm still in shock, haha. I have so many new pretties!! THANK YOU THANK YOU THANK YOU woobie!!! You are the best.