I followed the instructions from cheytown (thanks!!!), but used one of my favorite shirts that was getting too short on me. So this is my shirt reconstructed....also my first dress ever!
The shirt:
Dress:
My model was only so cooperative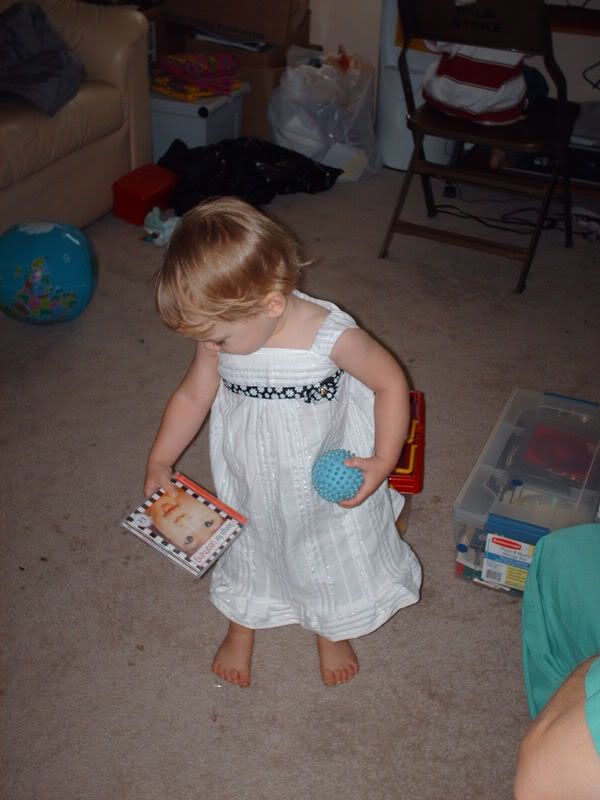 This shirt has some raised lines and some silver lines. It makes it look fancy and very girly. Also I loved using this shirt because the back of the shirt was shaped to fit our womanely figures and it was slightly gathered in the middle which made for such a cute front to a dress. It's hard to see it in the pictures, but the front is shaped and it has little gathers right under where I put the ribbon. Then I added a little bow....a little too far right--oops! My hand sewing on the ribbon wasn't so great so I added 3 tiny bells in the middle to cover it
Lastly, the straps were too short, which I thought they might be. I couldn't make the straps like cheytown said because of the odd shape of my sleeves. So when I redid them, I used the cuffs of my shirt and added the elastic. Here is the dress on my 3 yo (it fits my 3 yo except for the straps)...but now I know that it will fit my 18 month old (she was in bed):
I'm so excited she has a new cute dress for church tomorrow!
I forgot to say, that I loved that this fits both my girls, except for the straps are too short for my 3 yo. Next time I think I will add a button to the back so that I can adust the straps to fit both of them as my 3 yo loves this dress and wanted to sleep in it, even though it was digging into her arm pit