I got a new kitty from the pound about two months ago. My mom's birthday was soon approaching, and I decided I would paint a portrait of "Kitty Daisy" as the new cat has been officially dubbed. Originally I was going to submit it to the painting challenge, but procrastinating is kind of my thing and alas, I finished the painting about one week too late (and I'm just now posting it...).
Here's the finished product, a Pop Art-ish portrait of my cat.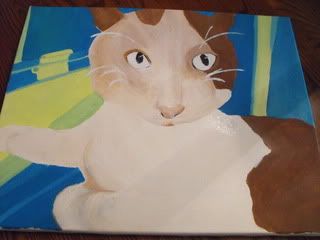 Anyways, on to the photos!
Here's the black and white photo I used as the reference image. I used a grid to transfer the image onto the canvas.
A comparison between the photo and the portrait. I went for a more "general likeness" than an exact likeness for two reasons: I only had blue, white, green and brown paint- no black, and also, to keep my sanity.