I had a few of the mini purse frames and wanted make them into fabric coin purses. However, I realised that my fabric stash is not as kawaii as many I had seen online so was a bit aprrehensive to try.
Then I chanced upon this blog ...
http://studiowonjun.blogspot.com/2009/08/dough-in-pot-crochet-coin-purse.html
Although I could not find any patterns for it.
I thought I just give it a try using whatever knowledge of crochet I have to produce my llittle version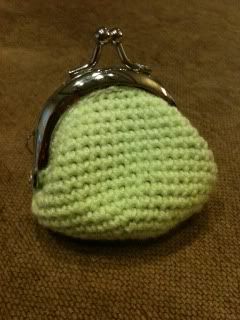 The kiddos at home think it is sute enough. And I am now making more as gifts for their teachers.
Thanks for looking.
Wen