I work at a camp where we go by pseudonyms instead of our real names. A friend and I have made some for various friends and I wanted to share!
We cut the wood, sketched the design using carbon paper, painted it (multiple layers of paint for the best look) and than polyheurthaned it for durability. The roses on some of the nametags are given to us at camp, one for every year you've worked there.
My nametag! This is the first one I ever made. I made it in 2005.
Years later, a friend went as a counselor. He described his perfect nametag in passing (he relates to the Genie in Aladdin) and we decided that we HAD to make it for him. Took about 8 hours because we were SO meticulous about it. The picture shows his old nametag (made by himself) and the new nametag that we made for him. We didn't tell him we were making it and took him out for lunch one day. We made him get up to refill my soda, which he did begrudgingly and when he came back, the nametag was on the table. He did a happy dance for us right there in the restaurant. He loved it.
We enjoyed making it so much that we decided to make another for my friends boyfriend and for another mutual friend.
Yes, his camp name was Captain Jalepeno. This one was a pain to cut out, but it was a lot of fun to make. He loved it as well!
This one we decided to use a decoupaged image on it rather than paint this one. I tried to do Star Wars lettering on the name. This is one of the least successful ones of the bunch, but it was still loads of fun to do, and he really liked the end result.
Finally, we realized that we had made nearly everyone in our group of friends that were going to camp a nametag except this one person. SO, we went about making his. A very simple design, we felt it turned out nicely.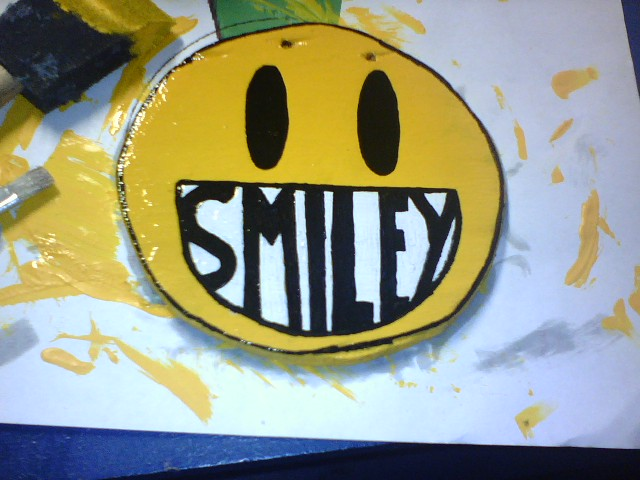 The funny thing is, the friend who helped me make these hasn't even gone to camp yet. Her first year as a counselor is this year (you have to be a senior in high school to go as a girl...There are less boys who volunteer, so they can often go as young as 10th grade.) I'm sure we'll have fun making HER nametag!