Well... it's not technically Halloween, but who knows, I might get lazy and decide to use this for Halloween. Anyway, every year for homecoming week, we have a character dress up day, and this year it has to be a movie character. (Previously it was just superheroes, then super villains.. I can't remember what else they did.) So far it's just going to be me dressing up, so I feel I can get a little more fun with it. (My friends are so lame.. 'dress up? wear a costume? TO SCHOOL!? are you crazy?!')
I'm thinking... Top Gun.
However, my biggest problem at current is that my room is being torn apart (most everything taken out so that we have room to put in my loft bed.. which hasn't arrived yet) and parents aren't too keen on the idea of me taking up space in the kitchen to make a mess and otherwise disrupt the natural order of things - so I really don't think I can make it from scratch.
Does anyone know where I can get something relatively cheap, preferably oversized, that I can cut down and make look a lot like an aviator suit?
My inspiration;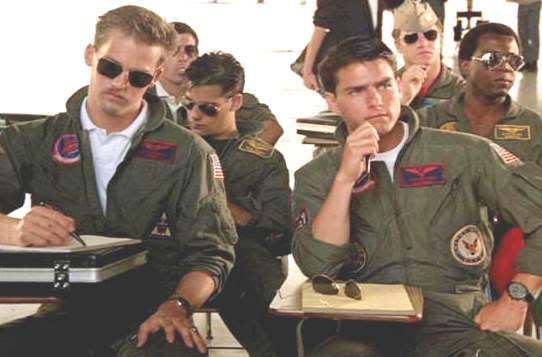 I don't want to wear the jumpsuits. I'd actually like to get my hands on a jumpsuit (is that what they're called?), put on some army-esque patches, and then alter it into a skirt suit. I'm not phrasing this right. >< Okay, like this.
I'll cut it along the pink line (and add some pleats, probably) and make into a skirt. And then wear a white t-shirt under it. Probably some leggings.
And I need some good aviator sunglasses. I was at wal-mart last night, and they had some relatively inexpensive ones... but they just weren't right. The shape was all wrong. I'd be willing to spend up to $20 on a decent pair that lasts longer than just one wearing. (I hear they're coming back in style?)
So any tips, comments, questions, help... would be massively appreciated!