Tutorial for T-shirts
Supplies:
Thread
Pins
Scissors
Pattern
Material 1/2 - 3/4 of a yard(I chose black t-shirt material and polka dot cotton)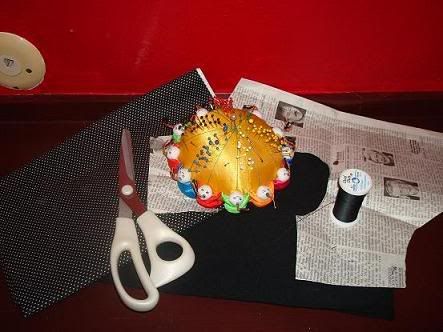 First lay out your material for the base of the shirt and pin it out, then cut around leaving about 1/2 inch all the way around.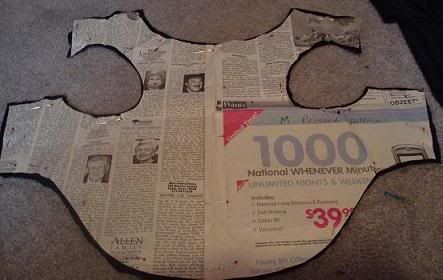 Don't foregt to play with your pooch while doing so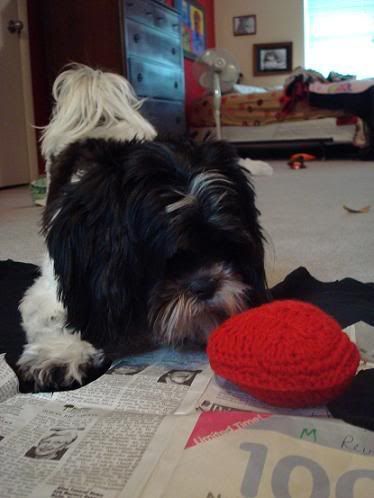 I usually do some type of painted graphic on the front so it's not just plain, but you can do whatever. I use regular acrylic fabirc paint (make sure it's not really thick) I also mix a little fabric medium so it can be washed etc and wont effect the picture. You just mix it with the paint. This one had Deadbolt written on the back because that's one of Teddie's nicknames..
Finished Painting..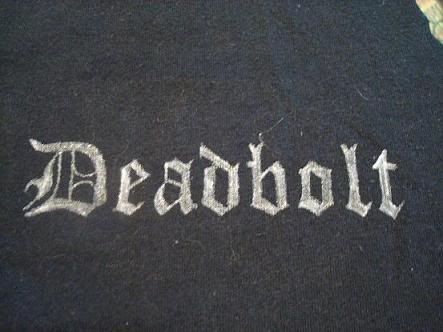 Now this part gets a bit difficult so just stay with me..
You'll need four strips of material two and a half times as wide as you'd like the band around the arms, neck and waist to be. I usually cut them 2 1/2 inches wide. Remember they have to be long enough to go all the way around the base of the arm, neck and waist.
Teddie wears a medium
Neck: 15"
Arm: 15 1/2"
Waist: 26 1/2"
Underside: 8"
Back: 13"
I make all of the bands about 28" because that's what fits the waist, you want to have extra on each end. You can cut the rest down once they're sewn on.
Match right sides together and sew.
Your shirt should look a little something like this once they're all sewn on.
Now you're ready to start turning the bands under. Starting from the edge I fold the band in half.
Then match the fold with the stitch on the (shirt)
Your shirt should now look like this. Do this to all bands.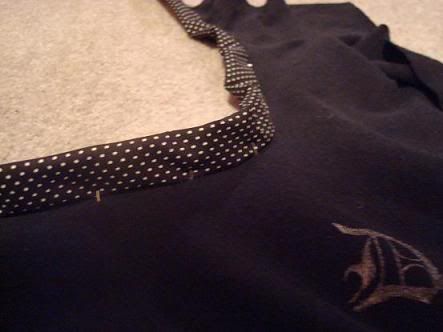 Once everything is pinned in place, sew along the edge on the top so you catch both the top and bottom. I sew at 1/4" all the way around the bands. Now that everything is together it's time to finish the shirt.
Flip the shirt over so you can start putting the sides together. Fallow the neck band and pin down the middle; making the top of the chest. Then fallow the waist and sew up the middle; making the bottom part of the chest.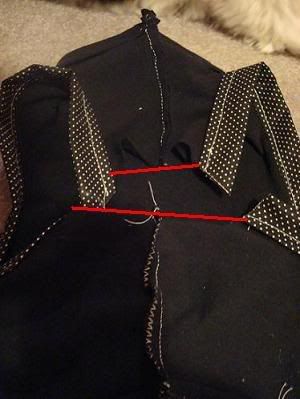 Now you should be able to fold those two down where you'll sew along the middle of the top and bottom. I like to zig zag the edges giving them a more finished look and keeps the ends from fraying.
The finished product.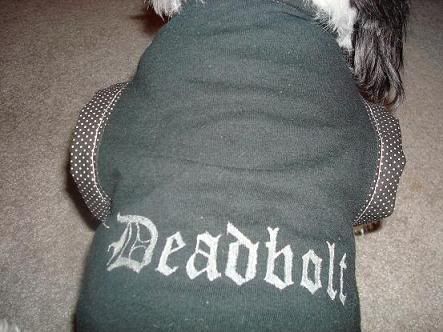 ***I'm sorry it took so long tog et one of these up. If you end up making one be sure to post it! I'd love to see your creations.