SO I FINALLY MADE THE TUTORIAL... MY FIRST ATTEMPT AT ONE!! WE'LL SEE HOW I DID! I DO BETTER WHEN I SEE PICS.. SO THAT IS HOW I DID IT!
http://i54.photobucket.com/albums/g101/alliblack/craft%20projects/TUTORIALLARGEPRINT.jpg
(LINK IF YOU CANT SEE NUMBERS)
THESE ARE THE DIMENSIONS THAT I USE WHEN MAKING THESE HATS. FITS ALL SIZE HEADS WELL BECAUSE IT TIES.
FIND CENTER ON EACH PIECE AND MATCH UP. PIN RIGHT SIDE TO RIGHT SIDE STARTING AT CENTER. PIN ABOUT EVERY 1/2 INCH, UNLESS YOU HAVE A BETTER WAY OF GETTTING A STRAIGHT SIDE ATTACHED TO A ROUND SIDE. ENDS WONT MATCH UP, THIS IS OKAY!
HOW HAT WILL LOOK ALL PINNED UP
SEW AROUND TOP. I SEW AROUND AGAIN ON OUTSIDE OF SEAM JUST SEWN, TO HELP PREVENT FRAYING.
THIS IS HOW THE BACK OF YOUR HAT WILL NOW LOOK.
ROLL UP THE POINTED PART OF THE HAT TWICE (ABOUT 1/2" TURNS) AND PIN
NOW FOLD UP STRAIGHT EDGES (TWICE) UNTL TOP OF THEIR EDGES OVERLAP OR ARE STRAIGHT WITH THE POINTED PART YOU FOLDED UP, SEW ACROSS.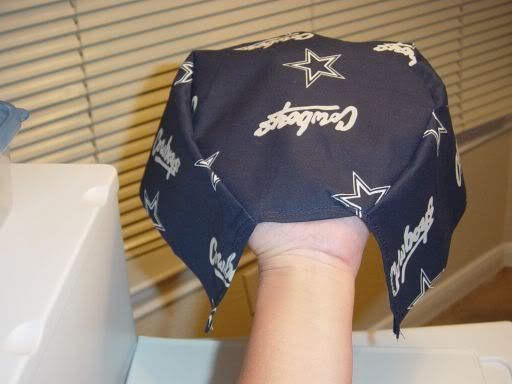 FLIP HAT RIGHT SIDE OUT. THIS IS HOW BACK WILL LOOK.
ATTACH PREMADE DOUBLE FOLD SEAM BINDING (OR MAKE YOUR OWN, IM LAZY) TO ROUGH EDGE OF HAT, MAKING SURE MATERIAL IS ALL THE WAY DOWN TO EDGE. I CUT THE SEAM BINDING TO 36 INCHES, FOLD IN HALF TO FIND CENTER, THEN FOLD HAT TO FIND CENTER IN FRONT. MATCH UP EACH AT CENTER AND PIN FROM CENTER OUT. SEW END TO END MAKING SURE HAT DOESNT SLIP OUT OF SEAM BINDING.
HERE IS YOUR FINNISHED PRODUCT!!!!!
HOPE THIS HELPS SOME OF YOU.... LADIES HAT TUTORIAL TO COME!!