So I asked my mom for old jeans to recon into some straight leg jeans for the Flatfoot show on the 30th. Figuring she would say no, I was surprised when she gave me 5 pairs to work with. This pair fit the best, but now are too tight and look bad when I'm sitting down. Any help with that problem would be lovely. All I did was take the inseam in a quarter inch, and the outside seam a half inch. They're thick denim to hide all my thigh mass, which is good coz the plaid ones don't. Also, these pics fattened me up when I rotated them, so if you put them on their side, you'll see how they really look. Thanks for looking!
Look at the butt these give me! Dang!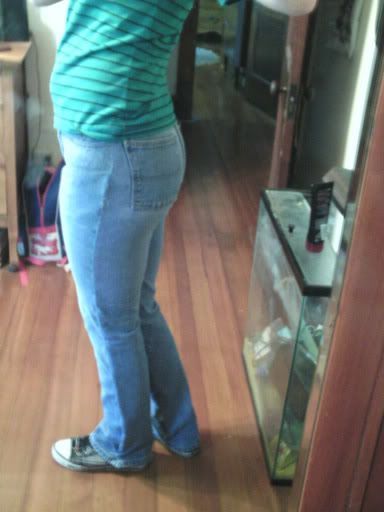 This is the dartage. Had I taken in the waist band I wouldn't be able to fit into them. It looks bad, but it hides under my shirt(High wasted was popular in the 90s supposedly...). Still like I said, if you have any ideas to make the waist fit better, HELP!
Random thought, the waist goes right up to my belly button. Like that matters.......
Rogue~!