Sold to A2K
Gnome note cards- 1 point for set of 8
These cards feature photos by me and come with envelopes.
Chifunky Pincushion-1
Made from an Anthropologie egg cup and vintage fabric. Super cute and last one available!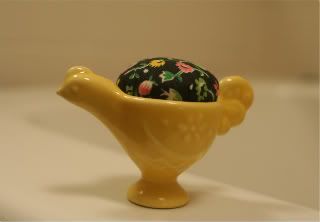 Also sold today:
Earthy (please choose brown, gray, or beige). The two on each end are beige and are from matching t-shirts. If you are doing a large project and need a third one of the same beige color, I have one that I didn't post because it broke a couple of times when my husband was helping me make the yarn and he pulled too hard. I'll throw it in for whoever can use it.
and the reds
Black and white and red all over. These are so similar, please just choose red, black or white.
Both of the black ones are really long because they came from XXL t-shirts...probably 13 or 15 yards.
Thanks for the claims!