I made this last night out of two t-shirts and some shoe laces. It was really easy to do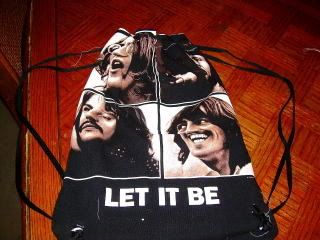 thoughts?
Tute:
-2 t-shirts
-2 shoelaces or ribbons 48"+
Lay out the two shirts and cut an 18 in x 13 in square through both layers of the shirt. Now you have 4 squares.
Decide what t-shirt squares you want on the outside and what ones you want for your lining.
Put the outside squares on the inside facing each other and sew up three sides leaving the top open.
Then while your backpack is still inside out you can fold down the opening about an inch and sew and then string a shoelace/ribbon through
or you can hem the top edge and cut holes through the top to weave the shoelaces/ribbons through. Make sure you start out on one side with the first shoelace and the opposite side with the second to make your straps.
now your backpack should be facing the right way
once you have that done cut 2 holes at the bottom or use gromets at opposite corners. once you have that done poke the shoelace/ribbon through and tie them so they dont come out
(i sewed my shoelaces to the back pack after i tied them so they wouldn't come out)
I hoped this helped. Im sorry there are no pictures and sorry if im not thorough enough. Feel free to ask questions