yet again let me repeat in my second post here
i'm new here at crafster, so please if i mess up a bit, please do forgive me!
inspired by poyoyon's post:
https://www.craftster.org/forum/index.php?topic=97441.0
For Christmas 2006, my cousins (about 13 of us on my father's side, plus 2 husbands lol) had set up a Monita Monita, known commonly here as either Kris Kringle or Secret Santa. The catch was that it had to be handmade crafts or gift baskets made with love and based on our personalities.
I had recieved the cousin who was the coordinator of the whole event so I wanted to make my gift for her extra special. Besides purchased items for her new office I made this: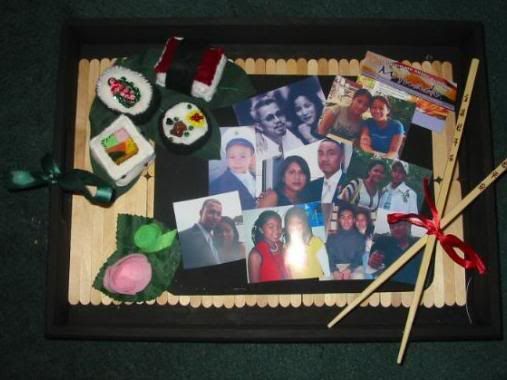 Handsewn, sushi, ginger rose, and wasabi made from a plethora of felt and beads, resting on plastic leaves, popsicle sticks for the "bamboo mat," a wooden asian-themed tray that I painted, and two chopsticks hotglued on the side with ribbons on the side. I also put the business card of her favorite sushi resturant on the side. on the white "bed of rice" i put photos of all our cousins.
Enjoy, I would love the hear any feed back