sorry for no in the process pics...
okay so here's what you need:
two hoodies (works best if they're the same color, but i think contrasting colors might look cool too if done right)
ten buttons (best with some kind of coat of arms style imprinting on them, but whatever style you like will work)
that's it.
here's what you do
from one hoodie(the "material" hoodie), cut two rectangles of fabric that are 8 inches wide and the full length of the hoodie.
cut two more rectangles 8 inches by 11 inches, then cut those two in half diagonally
cut two 5x5 squares
sew the large rectangles onto the front of the second hoodie (the "garment" hoodie), with one edge sewn right up to the zipper. leave openings at the openings for the pouch pockets, but sew the hem up separately in those spaces. this will give the jacket more structure than your average hoodie.
sew eight of the buttons to the panels you just put on, an inch from the panel edge, about four inches apart vertically. they're nonfunctional but they give it lots of style.
sew the triangles cut from the smaller rectangles together, outside out on both sides, then sew them inside the garment hoodie, lining the top edge up with the seam between the torso and the hood of the hoodie. pin the corners to the front of the hoodie and sew it down simply to hold its position. you now have the lapels.
take the two squares, fold them in half with the fuzzy side out. sew up the long edges and one short edge. then turn them inside out so the outside is out. sew the unsewn edge onto the shoulders of the hoodie, in the seam between the sleeve and the torso, stretch it out, and sew it down to the hoodie with the remaining buttons. you now have your epaulets.
hoodies usually have much poofier sleeves than the type of jacket you're trying to make, so you will probably have to take them in an inch or two. if this is necessary, do it.
you should now have a kickawesome jacket that looks a little something like this: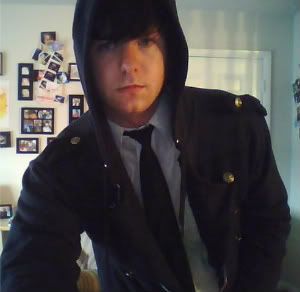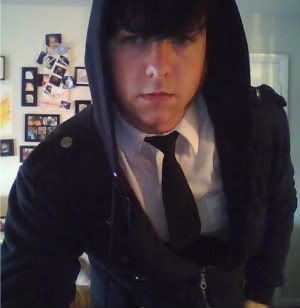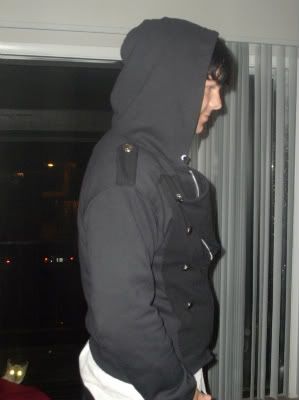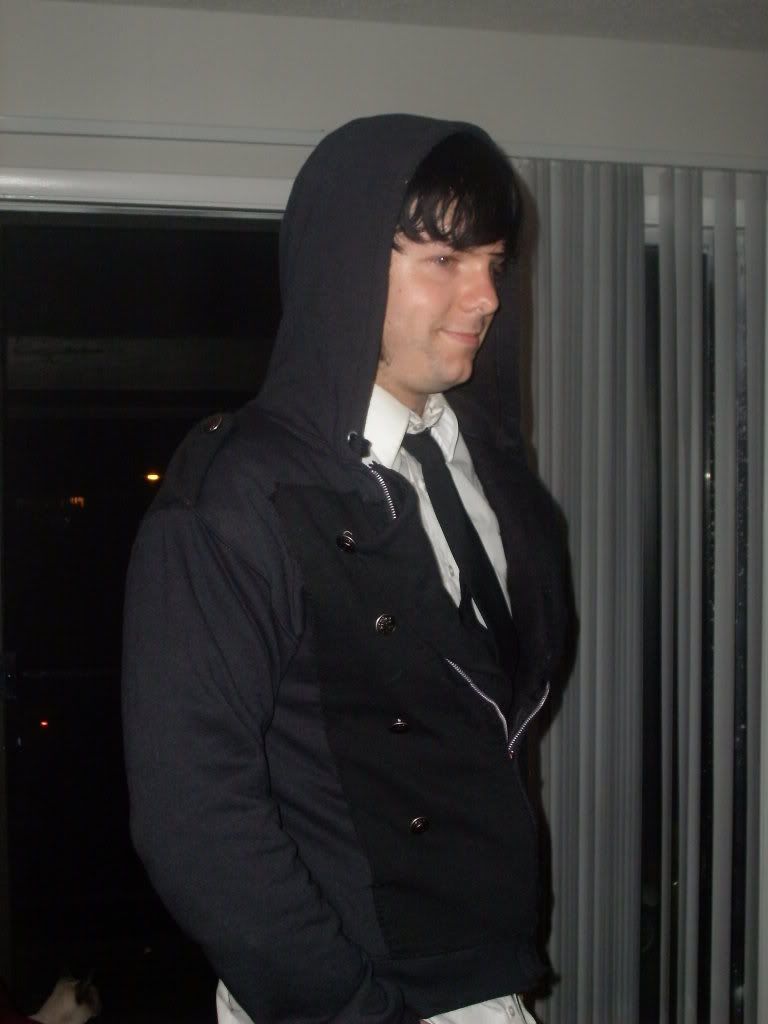 p.s. the materials don't look that different in real life, one just reflects the flash more than the other.