I think there are two ways you could make the shawl wider.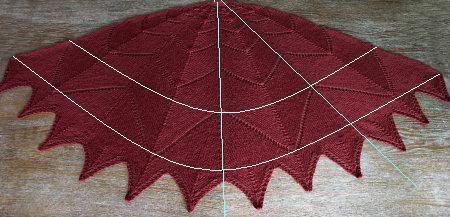 1) Add another repeat of the pattern horizontally (curved lines), which would also make it a lot longer since each each repeat gets bigger in length and width. I have no idea how much more yarn this would take.
2) Cast on five instead of four and do another section (straight lines) which should make it around 75 inches wide and closer to a half circle shape. You'd need 25% more yardage to do this.
I've only gotten a few rows done in the last couple of days. I have some kind of arthritis or something going on (and I'm not old!) that's making knitting painful right now.
Sad, because I like how this is turning out and I want to wear it! But, I'm only at row 78.