Okay, a couple of people have asked to see the other costumes, so here they are.
This is Bunsen and Beaker. They were the first and were not made from the furniture foam. Beaker is a posting hole and Bunsen is really heavy dense foam. I made bits and pieces. I'm Belle in a homemade costume, but I actually did not make it which I usually do.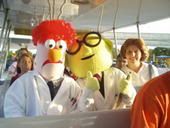 This is Pepe and Gonzo. Pepe is from a posting hole, and Gonzo is the furniture foam. I made the hands on both costumes, the feet for Pepe, and his arms and his jacket with the arms. The boys made the heads. That year, I also made Briar Rose and Snow White rags costumes which I posted a while ago.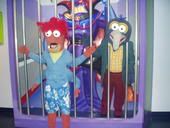 Then, last year, Gonzo was recycled and Sam the Eagle was created. I had no hand in it because it was made in the middle of the night the night before and I was sleeping. Sam's head was hand made, and the costume and feet were store bought.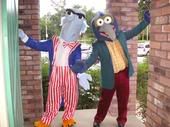 Sorry the pictures are little. Eventually, they want to make the band. My husband was also really into making puppets for a while. I posted one of them a while back. He's stopped doing that though because the project he was making it for fell through. I hope you like them.