Since Halloween is around the corner [and who doesn't love Halloween?] I figured I'd post some pictures from last years Halloween [where I work at a haunted house every weekend in October and through Halloween] so that way maybe, just maybe someone who needs some extra help with a costume can be inspired.
Before I started work at "Dark Manor" [where I work, here in Connecticut. If you live around here, do come by! We open October 3rd this year. :]] I originally had the idea of a "living dead girl." You know the song by Rob Zombie? Yeah, he inspired my costume for last year. But, as the weather got colder here in New England, the dead-girl costume had to be covered up by many layers of black clothing to keep warm. [I work outside in a "graveyard."] Originally it consisted of a black circle skirt, covered with tulle and black spider web material bought from Joann's on sale, and a black "doll" top, black wig, and make-up.
And, originally, my boyfriend was a zombie. Yah know..the brain sucking, blood thirsty, crazy kind? Yeah..originally his costume was a pair of grey corduroy pants and a striped shirt from a thrift store, cut and torn for a "rip" effect, then splattered with fake blood, and dark red "blood" like paint.
Sometimes though, he had to dress up as "grandma" from Psycho. Heh.
But, here are some pictures for you to enjoy! :]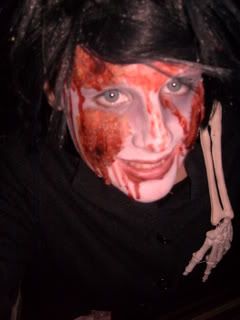 This is me, and my buddy "thing." The make-up is liquid latex, layered with tissue paper, cut open with scissors, and decorated for a nice effect with fake blood and cake make-up.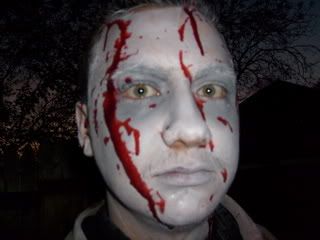 One of my boyfriend. We were in a rush that day, so we put fake blood in a bottle, and squirted it. If you want a nice "splatter" effect, the bottle trick is awsome.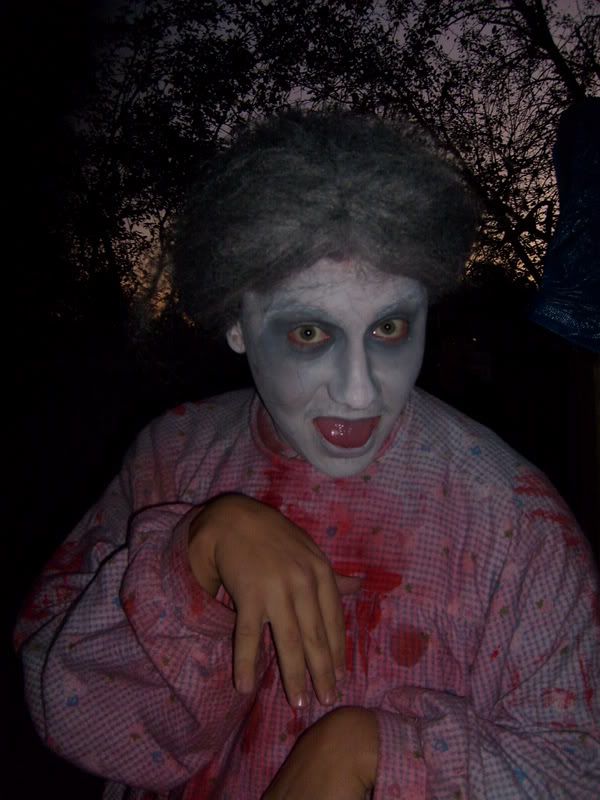 Granny! Minus his lethal knife. He had on an old flannel nightgown, covered with blood, and a grey wig.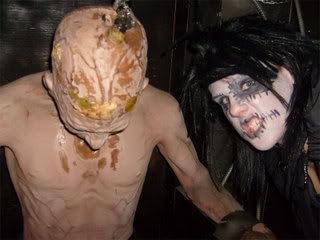 Hanging out with the electrocuted civilian who took a wrong turn.
Going for a Gerard Way black-mask look. And part of my boyfriend's face..heh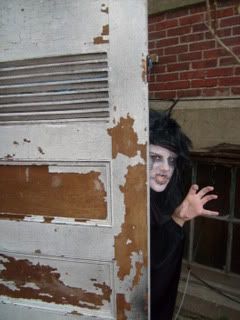 Action shot!
Also, on June 13th, 2008 after many months of not getting to see my scare family, we were reunited for a family-fun night at our local baseball stadium for "Friday the 13th." We had decorations and some of the props we use in the house. Little kids got trick or treat bags and got to go "trick or treating" for candy. We also got to throw out t-shirts to the crowd, and watch an awsome fire-work display with the Nightmare Before Christmas song playing in the background.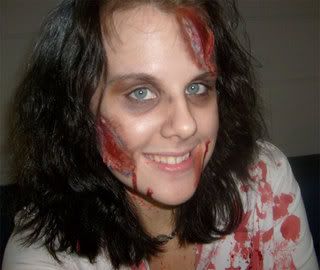 My "summer" look. It was 90 degrees outside, after all.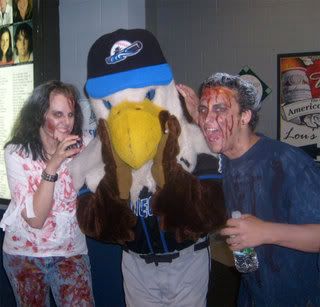 My boyfriend and I with the mascot, "Cutter."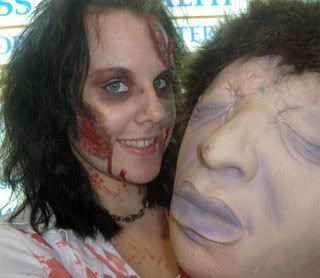 One of my victims head.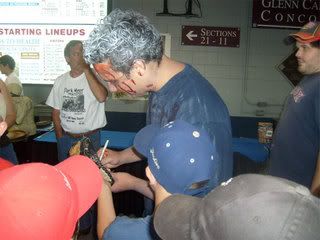 The boyfriend signing autographs for enlightened little kids who thought "he was the best zombie EVER!"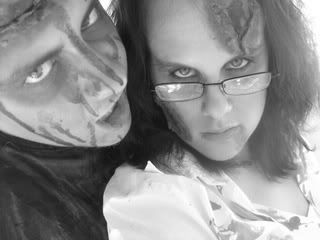 And us.
So, for this costume, we just ripped up some old jeans and shirts. Mine was a white collared shirt, torn on the arms, and splattered with blood with a wife beater underneath. The jeans..incase we couldn't find fake blood, with painted with blood colored paint, ketchup [because I wanted to see how it would look!] and fake blood all torn. His was pretty much the same thing, instead of blood though he used chalk and wrote "Dark Manor Convict" on the back.
If you have any questions, please do ask! This year, I'm doing a sort of "Silent Hill" nurse costume, except black, with the doctors mask and some creepy contacts. We'll see how it turns out!
Everything is pretty much homemade. I don't believe in buying costumes, unless you need some accessories. It seems to give it more "personality" if done by hand, using old whatever's.
Thanks for looking, and happy crafting!